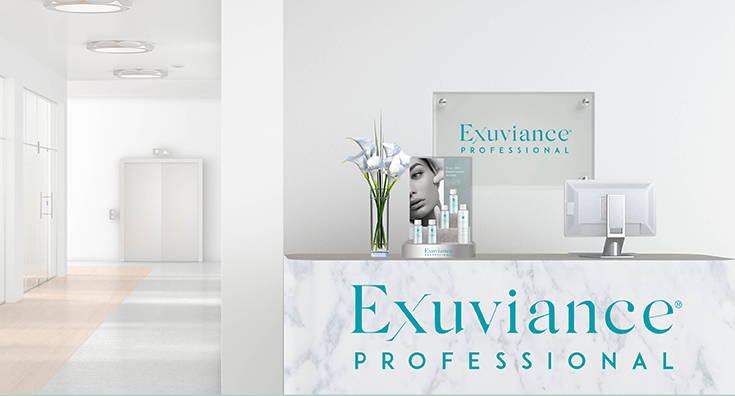 Fitting Personalized Skin Care Treatments into Your Spa Menu
with Exuviance Professional

If your clients like luxurious, one-of-a-kind treatments, you're probably already offering bespoke services—a personalized approach to skin care treatments. Whether bespoke facials are treatments you're considering or services you already provide, UCo is excited to share a new product line specifically designed for a customized approach to skin care: Exuviance Professional.
A Full Service Product Line for Professionals
Developed specifically for estheticians, Exuviance Professional is a comprehensive product line that carries a large selection of cleansers, toners, serums, moisturizers, masques, eye care, and body care, alongside a professional peel system. The breadth of skin-revitalizing products and the comprehensive range of clinically developed protocols address every client's skin care concerns.
Exuviance Professional's innovative formulations are ideal for both your estheticians and clients. In addition to providing unparalleled skin care products developed by dermatologists, the company fully supports professionals that use their products. Esthetician resources include product protocols, personalized training, videos, webinars, and a comprehensive manual and guidebook.
Exuviance Professional offers luxurious skin care products previously limited to specialist visits. All products are designed explicitly for spa treatments and based on decades of scientific research.
Created by NeoStrata, Exuviance Professional was founded by the dermatologists who discovered the skin care benefits of alpha hydroxyl acids (AHAs). With more than 100 patents, NeoStrata and Exuviance Professional are working to bring the science of AHAs to commercial skin products.
Exuviance Professional's products are the only AHA products that contain gluconolactone (G4), which is both a natural cell nutrient and antioxidant. It's called G4 because it has four hydroxyl groups instead of one, giving it special properties not found in regular AHAs:
Gentleness: G4 is very gentle, making it appropriate for even the most sensitive of skin
Moisturizing: G4 strengthens the skin's moisture barrier and hydrates better than other AHAs
Anti-aging: Potent antioxidants and nutrients protect the skin and stimulate revitalization in aging skin
Designed for Bespoke Skin Treatments
Universal Companies has partnered with Exuviance Professional to offer highly effective, customizable skin care exclusively for spa use. Backed by years of innovation and science, it allows skin care professionals to create a truly bespoke treatment plan that works for each client. The company's trained experts are ready to help estheticians redefine success for customers seeking a personalized, transformative program for their skin.
---
Universal Companies is proud to have a team of experienced spa advisors on staff and welcomes you to consult with our professionals about spa products and supplies, including ingredients, equipment, and retail. Dedicated to the success of spa professionals everywhere, we're grateful to be recognized with the American Spa Magazine Professional's Choice Award, Favorite Distributor of the Year for many consecutive years. (Thank you!)