Hospital-Grade Disinfectants Developed for Spas & Salons
Disinfect in as little as 1 minute! Powered by Accelerated Hydrogen Peroxide® (AHP®), Rejuvenate Disinfectants work up to 10x faster than other brands, offering you quicker treatment room turnovers. Designed for frequent use, they're non-irritating to the skin and eyes. Plus, they're fragrance-free and won't interfere with aromatherapy. Case packs are available for extra savings!
Learn about AHP®, Rejuvenate's fast, clean, and highly effective active ingredient.
Wipes offer a fast, convenient way to disinfect surfaces.
A customer favorite! The 160-count size is great for larger treatment areas, countertops, and more.
The slimmer 60-count size is perfect for mobile services, nail or styling stations, and other tight spaces.
The spray and the concentrate offer the most economical choices for effective disinfection.
Learn proper disinfection and show clients that your spa or salon is protected.
Introducing Accelerated Hydrogen Peroxide® (AHP®)
This spa and salon disinfectant works up to 10x faster than other brands (one-minute disinfection time), offering you faster treatment room turnovers. Safe for the skin, AHP® breaks down into water and oxygen, reducing your environmental impact.

*1-minute contact time for viruses and bacteria. Refer to label or reference sheet for full use-directions and contact times.
Conveniently and quickly disinfect your surfaces! All wipes are EPA-registered and meet OSHA's bloodborne pathogens standard. Case packs available for additional savings.
Get strong, fast surface disinfection with this generously sized canister of 160 wipes.
These soft packs are sized for uniform pockets, salon aprons, or small drawers. Each one contains 8 powerful wipes for on-the-go disinfection.
Rejuvenate Ready to Use Spray requires no dilution. Just spray and wipe! The cost-effective 1-gallon size is ideal for disinfecting large areas and easily refilling your existing spray bottles.
Best for large surfaces, foot baths, and whirlpools, the concentrate is your go-to economical choice. The diluted solution remains effective for 90 days.
Both the spray and the concentrate are EPA-registered and meet OSHA's bloodborne pathogens standard.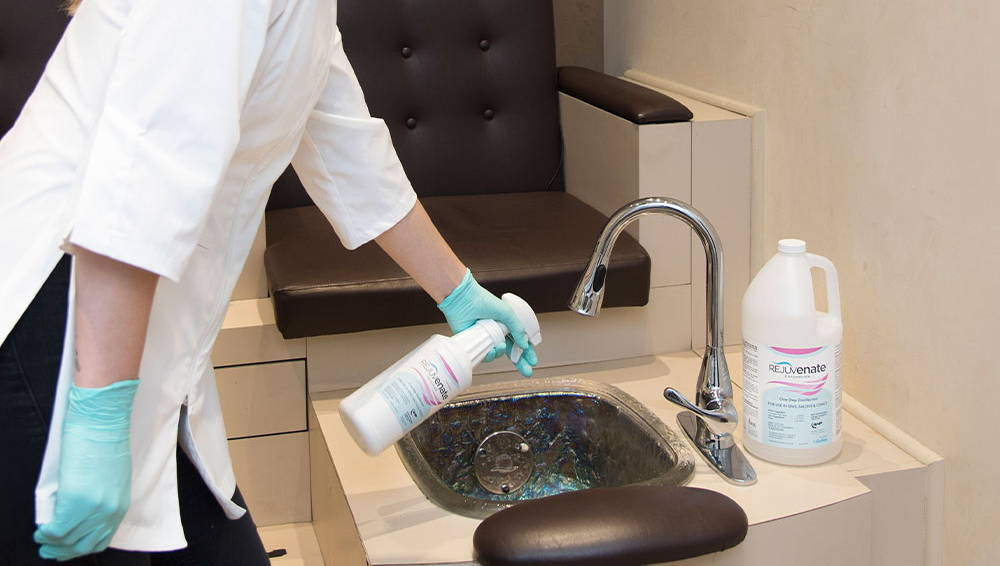 Education, Protocols, & Marketing Resources
From learning proper disinfection to showing clients that your spa or salon is protected, Rejuvenate offers all of the tools you need
These 15-minute courses are specific to nail salon & spa, massage services, and hair salons.
Once you complete them, you'll receive a personalized certificate of completion to display at your spa, on your website, and in social media.
Ensure you're disinfecting and diluting properly with these step-by-step protocols.
These eye-catching, informative materials will help you and your staff proudly disinfect with confidence.
Place these tent cards throughout your salon and spa to let your clients know you're properly disinfecting.
Show clients that your facility is protected by Rejuvenate. Great for doors, mirrors, and windows.