Spa Equipment - China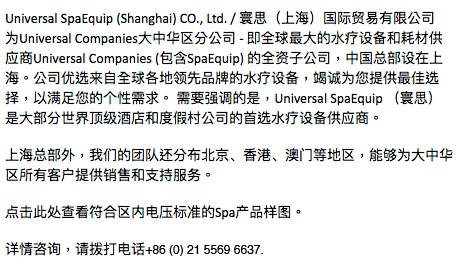 Universal SpaEquip (Shanghai) Co., Ltd. is a subsidiary of Universal Companies Inc. in China, the largest supplier of spa equipment and implements worldwide. The regional office is in Shanghai. We offer the leading brands of spa equipment from all parts of the globe, providing you the best possible selection to meet your particular needs. Universal SpaEquip (Shanghai) is the preferred supplier of spa equipment to most of the world's top hotel and resort companies.
We have a team in Shanghai, along with Beijing, Hong Kong, and Macao as well as provide sales and support services to customers throughout Greater China.
View a small sample of spa products that meet the typical electrical standard throughout Greater China.
To order, please call +86 (0) 21 5569 6637.