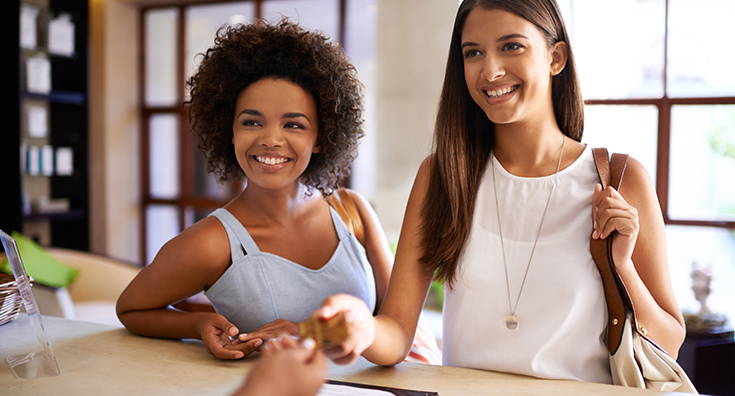 How to Turn Gift Card Customers Into Loyal Clients
"Our spa offers gift cards which sell very well, especially during the holiday season. The problem is, once they're redeemed, we may never see that customer again. How can we make sure they come back, preferably time and time again?" – David B., Atlanta, GA
If your spa has a gift card or gift certificate program but no idea how to keep those first-time customers coming back for more, then you're missing out on the second half of the revenue equation.
A gift card has the potential to pack a 1-2 revenue punch: first, when you sell it; and second, when it's redeemed. But after the sale, gift card redemption only benefits your spa if you convince the bearer to return for paid visits in the future. So how do you manage that? You have to be very intentional about it. Here are nine ways to turn a first-time gift card customer into a loyal client you can count on.
1. Offer a discount, free enhancement, or upgraded service on your customer's first paid appointment. If not a massage package, how about a 90-minute treatment for the cost of a 60-minute service?
2. Offer a "pay it forward" discount on a gift card purchased for a friend (or even for themselves!) at the time of your customer's visit.
3. Provide exceptional service. After all, it's true: You never get a second chance to make a first impression. Don't ever assume that a gift card customer cannot become a source of regular future revenue.
4. Educate clients on skin, sore muscles, etc. Show them what a confident expert you are, instilling instant trust.
5. Make sure your spa has signature touches. These could be things like a welcome foot ritual, specialty snack, or mini back treatment to close. Clients may already THINK they have a favorite place for treatments, but this is an opportunity to win them over for good.
6. Follow up by sending a card in the mail thanking your client for his or her visit. Including something personal in the handwritten note, like: "I hope you have a wonderful time at your upcoming___" or "That photo of your cat cracked me up for days!"
7. Send your gift card customer home with a thank you gift. If you have product left after a treatment, put it in a pretty bottle or jar to use at home. Or use the same essential oils you used during the appointment to create a small, take-home body/room spray. (Extra points if the container is branded with your spa's logo.)
8. Last but not least, don't be afraid to ask the question: "So, when can I schedule your next appointment?" You might be surprised at how effective directness can be!
9. Send reminders to recipients that a card or gift is about to expire and offer to allow them to change service or purchase retail.
---
Universal Companies is proud to have a team of experienced spa advisors on staff and welcomes you to consult with our professionals about spa products and supplies, including ingredients, equipment, and retail. Dedicated to the success of spa professionals everywhere, we're grateful to be recognized with the American Spa Magazine Professional's Choice Award, Favorite Distributor of the Year for many consecutive years. (Thank you!)