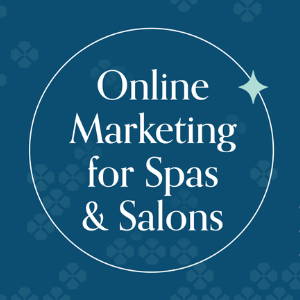 A FREE Guide for Beginners!
(6-Part Series)

Consumers are shopping online, now more than ever. Visibility is crucial to your business. Created especially for spas and salons, this video series reveals how to increase your virtual presence. You'll learn simple steps to help you inform current–and prospective–clients about what your business offers. Best of all, it's totally doable. . .and you may even think it's fun!
DISCOVER
☑ Why You Should Care About Being Online
☑ Attracting Clients With Your Website
☑ How to Get Your Business Found Online
☑ Online Retail is Booming - We Answer All Your Ecommerce Questions
☑ Email Best Practices
☑ Using Social Media to Help Your Business
Please fill out the form below to access this exclusive content.
BONUS: We provide links to all the tools discussed in each class so you can easily get started with the knowledge gained.
Each course is in video format and can be accessed anywhere, anytime! You can watch them at your own pace or skip to the ones that are of most interest to you.

Created in partnership with GSN Planet, these sessions offer practical advice from marketing professionals with decades of experience.
Here are some comments from the webinar chat
"Awesome! Can't wait for the next one"
Kirsten K.
"Thank you so much!!!
Very informative!!!"
Tricia F.
"Thank you - interesting, even for web veterans, there is always new stuff to learn."
Debbie L.
Universal Companies is proud to have a team of experienced spa advisors on staff and welcomes you to consult with our professionals about spa products and supplies, including ingredients, equipment, and retail. Dedicated to the success of spa professionals everywhere, we're grateful to be recognized with the American Spa Magazine Professional's Choice Award, Favorite Distributor of the Year for many consecutive years. (Thank you!)