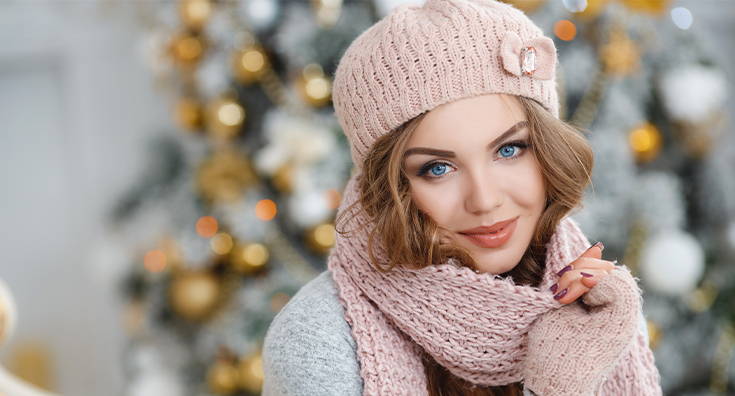 4 Easy Ways to Increase Holiday Lash & Brow Business
Client demand for lash and brow services is high year-round, and the holidays are the perfect time to give this popular part of your menu some extra pizazz. That's why we're bringing you four easy to implement ideas that will set your spa apart, delight your existing clients, and draw in new business.
1. Offer gift packages that include products and services.
A lash extension package that includes a full initial set, two fill services, and a home care kit provides a perfect introduction to your lash and brow business. Existing clients might even want to take advantage of this holiday special or gift it to family and friends. Brands such as MUD, LashFood, Ardell®, VLash®, and JB Lashes® have the items you'll need while clients are in the chair.
2. Promote seasonal add-on services.
Lips need love during the cold winter months, too! Including a free lip treatment like the Prosana® Collagen Lip Mask with the purchase of a full lash extension set or lash and brow tinting service offers clients another gift-giving opportunity. You could also offer at-home care as a GWP, like Patchology Lip Masks. As more people experience your services and products, they're more likely to recommend your spa or salon. It's a win-win!
3. Focus on home care.
Products for at-home care work well as a part of your holiday packages. The MUD Smitten Collection and VLash Fantasy Lash Conditioner are great retail items and perfectly complement any lash and brow service. Include a complimentary lash and brow consolation with the purchase of retail products to encourage additional gift giving!
4. Reward clients for getting social.
In the world of social media, more is merrier! Invite your clients on Facebook, Twitter, and Instagram to tag your spa and post a holiday themed selfie using hashtags such as #HolidayLashes or #HolidayBrows.
Give each follower who posts an incentive a reward, such as a free eye mask treatment or strip lash retail set, when they book their next visit. These photos will be seen, liked, commented on, and possibly shared by their followers, too! This engagement is a fun, inexpensive way to boost your business.
For more business boosting tips, be sure to follow us on Facebook, Twitter, LinkedIn, Instagram, and Pinterest.
---
Universal Companies is proud to have a team of experienced spa advisors on staff and welcomes you to consult with our professionals about spa products and supplies, including ingredients, equipment, and retail. Dedicated to the success of spa professionals everywhere, we're grateful to be recognized with the American Spa Magazine Professional's Choice Award, Favorite Distributor of the Year for many consecutive years. (Thank you!)