Treat Your Neck to a Good Stretch:
4 Simple Stretches to Help Relieve Neck Discomfort
Don't pour from an empty cup! Use these 4 simple stretches to help relieve discomfort in your neck and shoulders so you can comfortably provide the best services to your clients.
Upper Trapezius Stretch
Great for your upper back and neck!
The upper trapezius is a muscle that runs from the base of your skull down to your shoulder blades. It's responsible for tilting your head back, which is why it's often called the "upper trap." In addition to its role in moving your head, the upper trap also helps stabilize your neck and shoulder blade.
When the upper trap often becomes tight, it can cause pain in the upper back and neck region.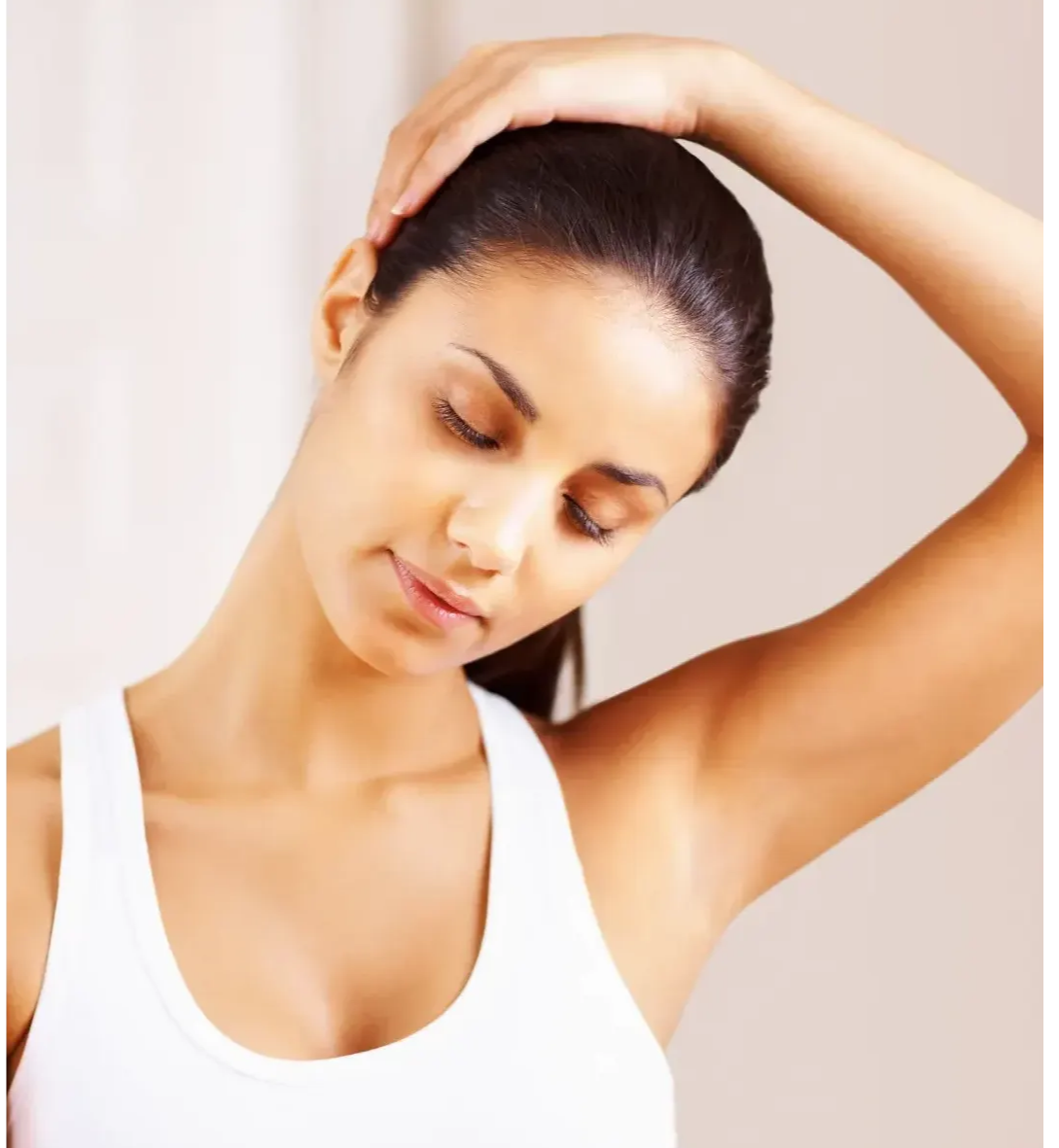 To stretch this muscle:
1. While standing straight or sitting in a chair, take your right hand and place it on the back of your head. Take your left hand and tuck it behind your back.
2. Using your right hand, gently pull your head toward your right shoulder.
3. Hold for 10–15 seconds.
Repeat on the other side.
Perfect to stretch your neck and upper back!
The levator scapulae is a muscle that runs from the top of the shoulder blade to the base of the skull. It's responsible for lifting your shoulder blades and keeping them in a stable position. If this muscle is tight or weak, it can pull on other muscles and bones in your neck, causing pain and discomfort.
To stretch this muscle:
1. While sitting in a chair or standing up straight, turn your neck 45 degrees to the side.
2. Bend your neck downward (as if you were looking into a shirt pocket). You can use your opposite hand for a greater stretch.
3. Hold for 10-15 seconds.
4. Repeat on the other side.
Neck Rotations with Contract-Relax Stretch
This one targets your side neck muscles.
The neck is an important structure that supports the head and the cervical spine. A stiff neck can cause pain, headaches and even more serious problems like upper back pain and shoulder pain.
To stretch this muscle:
1. In a chair, sit tall and rotate toward one shoulder as if you're trying to look behind you. Keeping a slight chin tuck while rotating.
2. Once you reach your end range, hold the position for 10 seconds, taking long, slow breaths.
3. Place your opposite hand on the side of your head and push into it, as if you were rotating your head back to the middle, but allowing your hand to resist the movement.
4. Hold for 5-10 seconds.
5. Repeat 5x on each side.
This stretch lengthens and stretches your neck.
To stretch this muscle:
1. Sit in a chair with your feet firmly planted on the floor, keeping your back straight.
2. Bring one ear toward the same shoulder, relaxing the opposite shoulder.
3. Hold the position for one to two minutes, taking long, deep breaths.
4. Repeat on the other side.