How to Select a Dermaplaning System
By Lori Vargas, Founder of 360 Wellness Education, Laura Larrabee, Assistant Director of Aesthetics Institute, Monique Raab, Director of Aesthetics Institute
Professional estheticians have the training and experience to administer treatments, but the outcome will only be as good as the products they select and incorporate into those treatments. Choosing a dermaplaning system that delivers effective and reliable skincare solutions is a must. Utilizing surgical blades that are practical and safe for cosmetic procedures relies on the combination of reusable scalpel handles with easy-to-replace surgical scalpel blades or disposable scalpels. Using blade removal devices which help to reduce the risks of sharps injury and ensure safe disposal is critical.
Initial Determining Questions
• What scalpel blade sizes and shapes are most effective to support your treatments?
• What style of scalpel blade handle is most effective for the treatment and your hand size?
• Does the system offer a safe and easy tool to remove blades?
• Does the system include a blade removal unit for safe storage of used blades?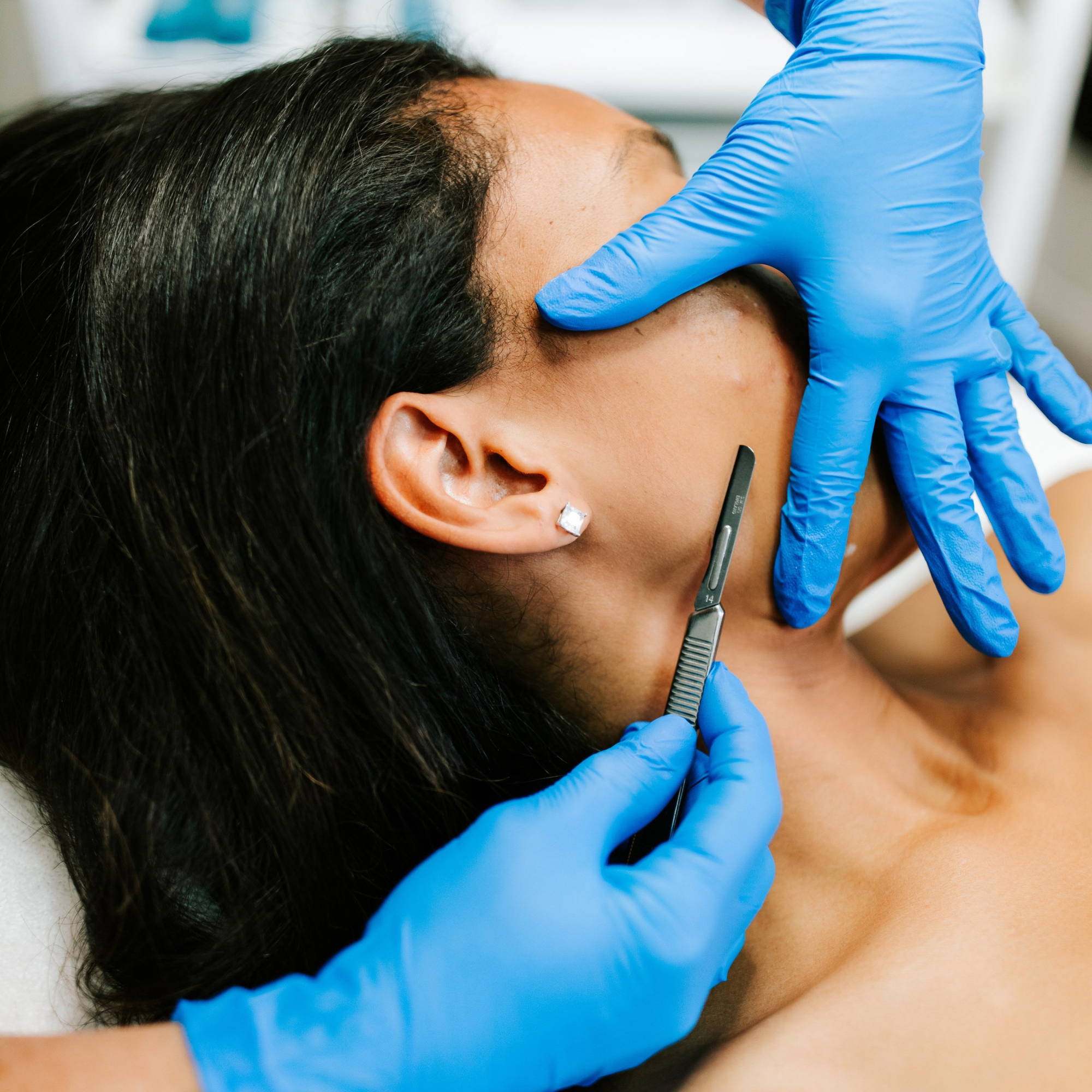 3 Key Elements of a Dermaplaning System
A dermaplaning system is comprised of surgical blades, surgical blade handle, and blade remover and storage unit.
1. Surgical Blades
• Single-use, sterile, surgical scalpel blades are numbered to indicate what length of hair they will leave. For example, a #10 blade will leave a hair length of 1/16". Using this type of blade over dermaplaning oil provides a longer blade use throughout the skin treatment.
• Single-use blades are designed to lock onto a scalpel handle and are easily removable.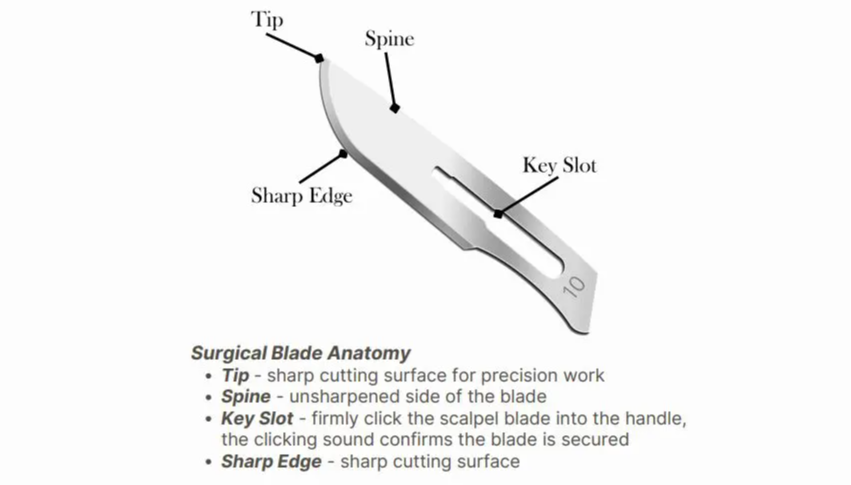 • The blade quality is important because it will impact the quality of the treatment but there are other factors that will dull a blade during a treatment. They include residue on the skin, dry, dehydrated skin, rough skin, and excessively coarse hair. Blades may need to be replaced during the treatment to achieve optimal results.
• The material of the dermaplane blades is either stainless steel or carbon steel both need to be produced from high-quality, durable carbon steel or stainless steel. Carbon steel blades hold their edges longer throughout the procedure, while stainless steel blades are sharper at the beginning of the procedure.
Note: The most popular sizes for dermaplaning are the #10, #10R and #14 surgical scalpel blades.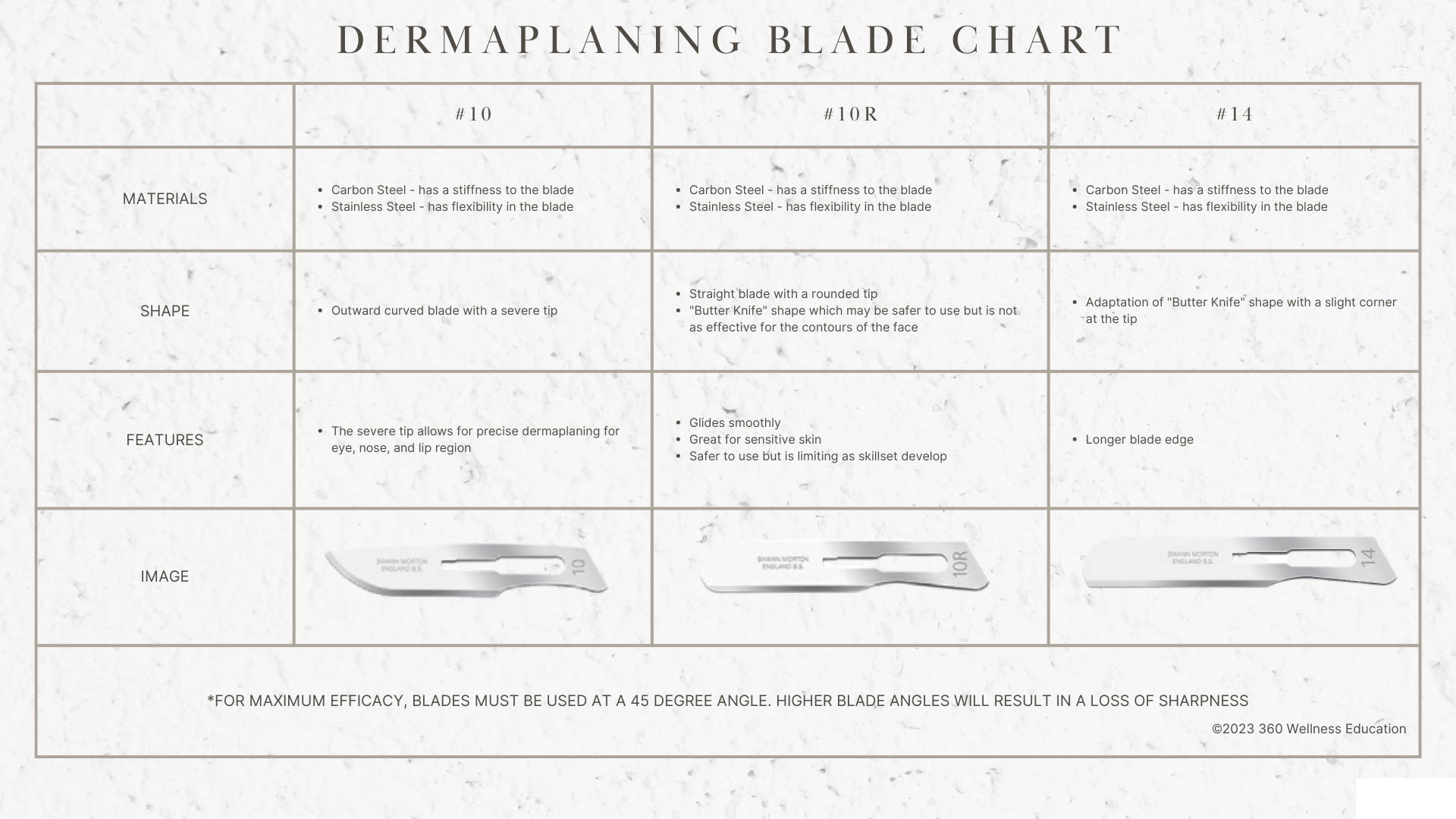 2. Surgical Blade Handles
• A stainless steel scalpel handle is recommended for extensive durability, and there is no need to repurchase one for every new blade. This handle fixes the surgical scalpel blade perfectly. This handle is important for the precise fingertip control required for dermaplaning.

• The stainless-steel handle is cleaned after each use with alcohol and disinfected by soaking in hospital grade disinfectant or sterilized in autoclave based on state regulations.

• The typical handle size is #3 to fit the #10 and #14 blades, but be sure to take into consideration your hand size and review the various handle sizes to see what the best personal fit is:

• Handle 3 – standard
• Handle 3L - longer version of the #3
• Handle 5B - bulbous handle for larger hands
• Handle 7 - slimline handle for an extra touch and feel
• Handle 9 - short and slim for close-up work
A disposable scalpel is a single-use, sterile, surgical scalpel that is available in varying blade sizes and designs. The disposable scalpel is lighter in weight than a stainless-steel handle and blade resulting in a needed adjustment to your pressure and stroke technique. It is important to maintain consistency with both during application. The lighter scalpel may need a steadier hand compared to a stainless-steel handle. The appeal to the disposable scalpel for clients and the business is that it ensures a sterile tool for every treatment.
3. Blade Removal Box
For safety, it is important to have a blade removal tool. The preferred design is with a container built in. The scalpel blade removal box allows for the removal of the blade from the handle and disposes of it safely in a sharps container box. My preferred design is the combined approach. A less desirable option is to use a blade removal tool to remove the blade and then place the blade in a sharps container box.

Using the best dermaplaning tools is critical to providing a superior dermaplaning treatment. It is important to test a few options to see which style of blade and handle best fits your individual technique and ensures safety for the clients.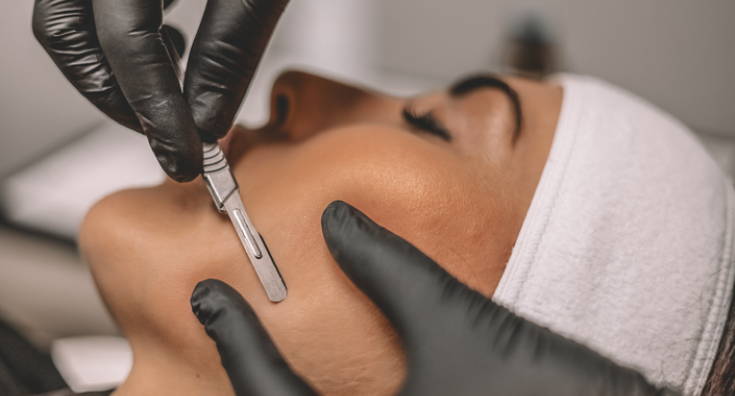 360 Method Advanced Dermaplaning Dry & Wet Techniques Training & Certificate
Earn 4 CEUs with this course learning Advanced Dermaplaning techniques focused on client safety, treatment efficacy, and best practices. You will learn how to integrate dermaplaning with other modalities, elevating your service menu with customizable options to meet your clients' skincare needs.
About Lori Vargas, MBA (she/her/hers)
Lori Vargas, founder of 360 Wellness Education, has over 20 years in the spa industry as a founder of multiple spas, a massage school, and as a spa consultant. She also has 14 years of experience guiding Fortune 500 Companies with corporate strategies and business development. Lori holds a CPA and MBA from the University of Chicago.

To complement her online 360 Wellness Education courses, Lori has created an educational community focused on connections and growth through 360 Wellness Education CORE Membership. This membership provides easy access to affordable on-demand advanced education, live webinars (sip & learn style), Facebook private group, newsletters, and live events. Follow on Instagram at @360WellnessEducation .

In addition to CORE Membership and her other online courses, Lori offers 360 Business Workshops. This live webinar series focuses on business start-up and development, sharing valuable insight, advice, and templates to jumpstart business growth and maximize success.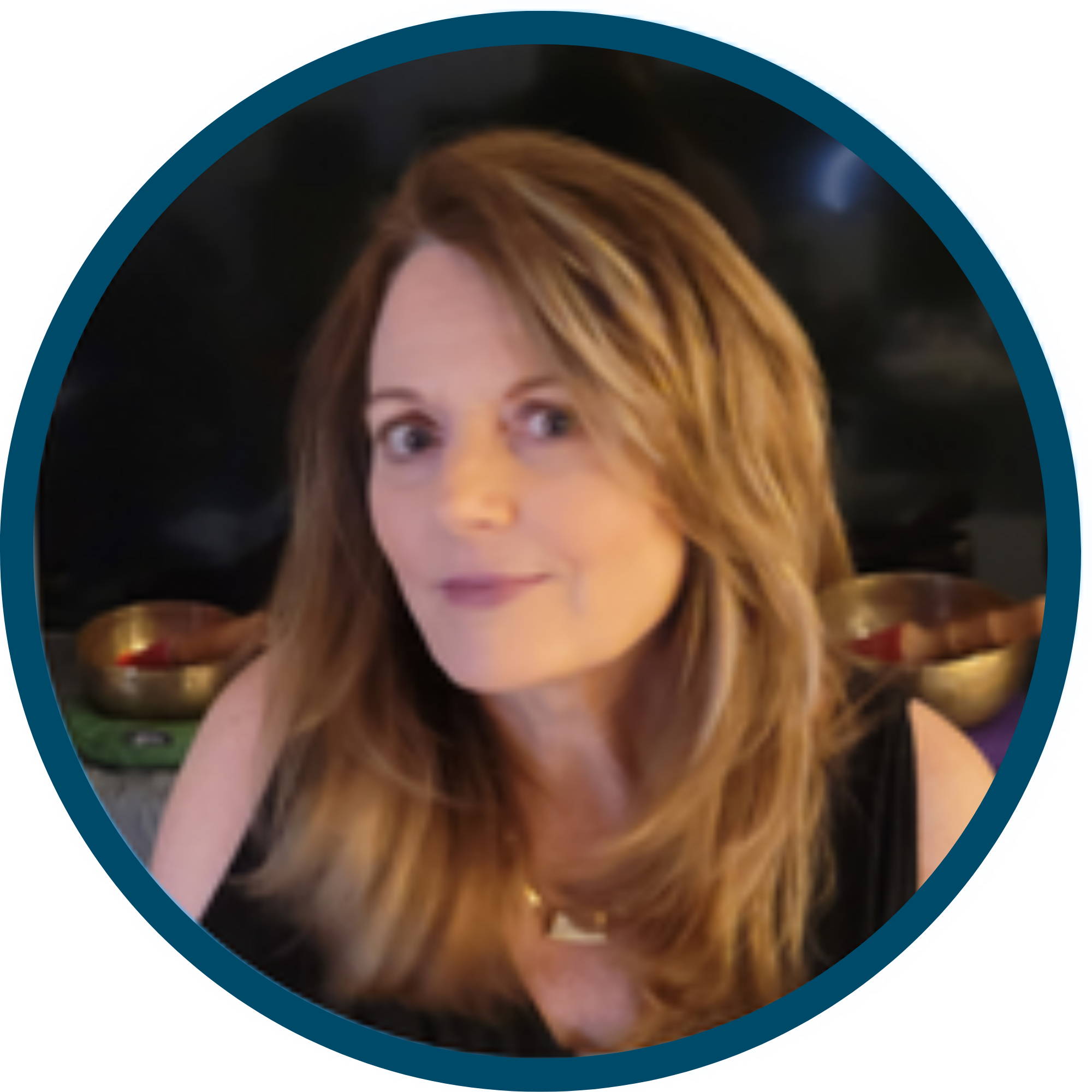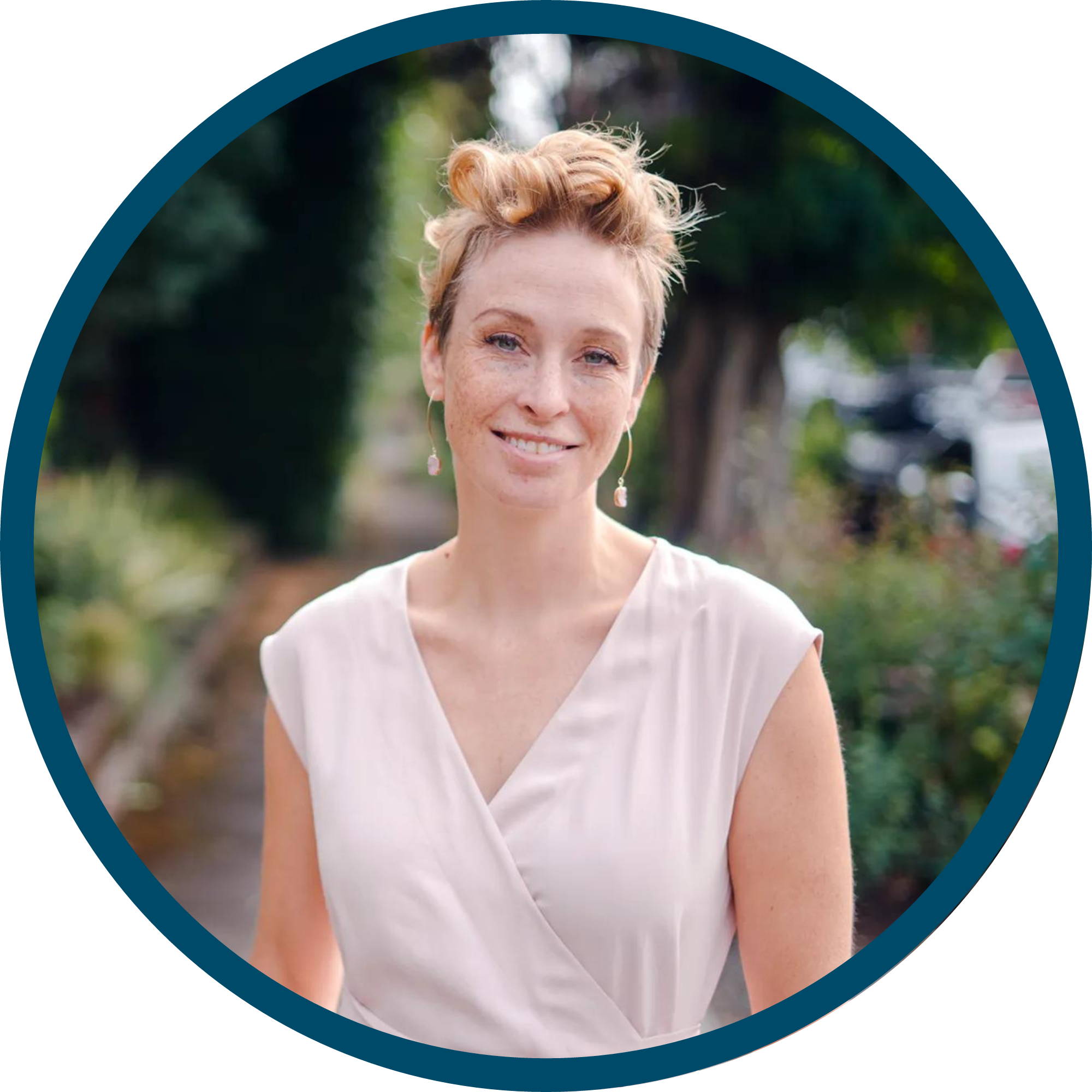 About Laura Larrabee, LEI, CAEI
Laura graduated from Central Washington University with a degree in Business and discovered her love of teaching while obtaining her master's degree in English at Portland State University. While working at the Portland State Publishing House, she developed her passion for education, which she has carried with her into her career at Aesthetics Institute as Assistant Director. Laura, a graduate of the Aesthetics Institute, returned to pass on knowledge and skills after working in the industry as an advanced esthetician for many years. While working in the industry, Laura built her skills as an educator, often training co-workers and creating protocols. Laura's experience with corrective and advanced esthetics has driven her desire to teach the best techniques possible.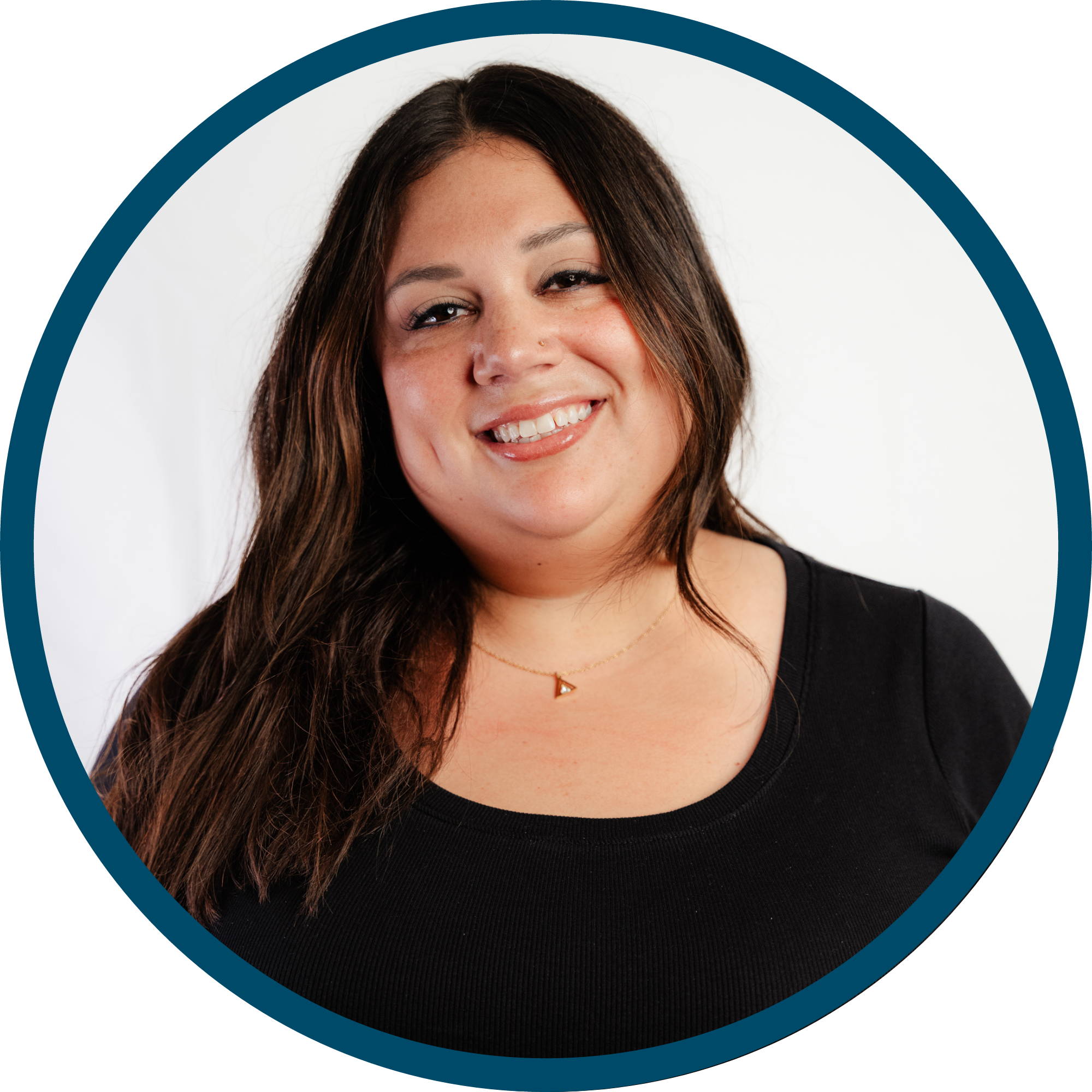 About Monique Raab, LEI, CAEI
Monique is a CIDESCO International Diplomat, Master Aesthetician, Certified Advanced Esthetician, and a member of NECA (National Esthetician Certification Advanced Training), Professional Beauty Association (PBA), National Association of Professional Women (NAPW), American Association of Cosmetology Schools (AACS) among many other association and organization affiliations. As the Director of Education and Owner of the Aesthetics Institute of Portland, Monique has made it her mission to keep the Aesthetics Institute on the cutting edge. Her belief in excellence led her to create unique courses that exceed state requirements.
Universal Companies is proud to have a team of experienced spa advisors on staff and welcomes you to consult with our professionals about spa products and supplies, including ingredients, equipment, and retail. Dedicated to the success of spa professionals everywhere, we're grateful to be recognized with multiple industry awards (thank you!) and proud to support the spa industry through mentorship and sponsorship.