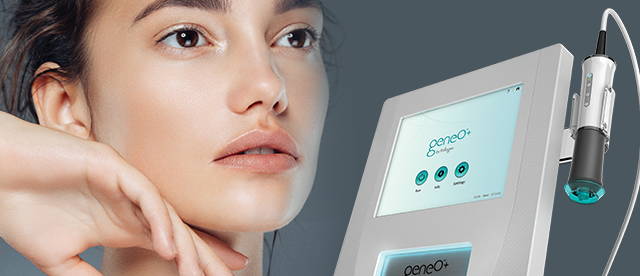 Incorporating Equipment Into Your Advanced Skin Care Treatments
In today's fast-moving world, both estheticians and their clients desire the best skin and facial treatments in the shortest amount of time, including recovery time. Combining the right spa products and equipment will satisfy both of these demands and pave the way for profits!
Facial Cleansing and Acne Treatment
One of our favorite pieces of equipment, the Iontosonic® Model 6000 Esthetic, was designed by both dermatologists and plastic surgeons for procedures ranging from simple skin cleansing to complex acne treatments. Its deep cleansing, scaling, and lifting and firming modes accomplish everything from exfoliating dead skin to infusing live skin cells with the vitamins they need. This equipment, when combined with the correct products, is easily translated into hundreds of different treatments.
For treating acne, we suggest the Salicylic Wash for the deep cleansing and scaling modes. Add a Blue LED light (to eliminate propioni­bacterium acnes), follow up with a Sulfur Calming Mask applied directly to blemishes and over the rest of the face, and apply the Balancing Thermogel Mask. After removing the masks, infuse vitamin C with the Iontosonic. Then, apply Hydrant Stabilizer to face, neck, and dècolletè. Finish with Collagen Eye Defense and Oil Free Sunscreen SPF 30.
If you want to simplify the process and make it more cohesive, you might consider equipment that has proprietary products, such as the Oxy Geneo+ 3-IN-1 Superfacial. This multitasker takes up little space yet yields impressive results. First, exfoliate the skin, then infuse nutrient-rich active ingredients like NeoRevive™ for rejuvenation and anti-aging or NeoBright™ for skin brightening and texture improvement. Finally, use the machine to Oxygenate for optimal absorption of active ingredients. To reduce post-inflammatory hyperpigmentation use a sunscreen such as Aroma Matte Day Cream SPF 30.
If space is a concern or if you want to take your services on the road, consider the Silhouette-Tone Silver Peel Microdermabrasion and the Quasar Baby Blue LED. The size of these two devices is perfect for a mobile independent practitioner or a small day spa room space. The Silver Peel is an excellent crystal-free microdermabrasion treatment, and its results can be intensified by incorporating the Quasar LED treatment.
Let us know what spa equipment works for you and how you like to incorporate different spa products into your services on Facebook, Twitter, Instagram, or Pinterest. Use the hashtag #SkinCareEquip