Try Mancine for yourself!
This waxing kit contains all their bestsellers, including a variety of pre- and post-waxing products and innovative non-woven strips.
Turn Waxing Services into Spa Treatments with Premium Australian Waxes
Mancine has been formulating dependable, high performance waxes since 1965. Made with luscious plant oils and skin-soothing ingredients, their waxing products are made to look and feel luxurious. The result is soft, smooth skin and delighted cilents.
What you'll find on this page:
Mancine Cosmetics began as a small family business in Melbourne, Australia in 1965. Over 55 years later, it has grown to become one of the world's leading body care brands with a reputation for excellence and innovation.
All Mancine products are salon tested by professionals for safety and effectiveness. Their waxes melt approximately 10°C (50° F) lower than other brands, which means you can spread them thinner. This helps reduce pain and redness, plus you'll get more applications per jar.
Ultra Flexxx, a proprietary technology exclusive to Mancine, has a unique plastic texture that shrink-wraps around the hair. This allows the technician to pull the hair, not the skin, making it an optimum choice for sensitive areas.
Ultra Flexxx is suitable for all skin types, and it's available in hard and soft waxes.
Formulated to pamper sensitive and delicate skin, Mancine hard waxes offer exceptional pull and pliability.
Available in easy-to-snap discs.
Made for low temperatures, these waxes spread thinly & offer great grip to remove the toughest hair.
Treatment Room Essentials
Spunlace wax strips are a revolutionary blend of traditional pellon and muslin. This unique fabric sticks to wax immediately, delivering fast, effective results.
Choose how much you need and cut to size. This 100-meter roll is great for all roll-on and strip waxes.
Enjoy the conveneience of pre-cut strips that deliver superior absorption. Both sides can be used!
Remove wax from clothes, furniture, carpets, wax heaters, and equipment with this powerful cleaner.
Skincare isn't just for the face! After you perform a waxing service, exfoliate the newly waxed area and hydrate it with a luscious emollient. Providing post-waxing skincare can reduce ingrown hairs, soothe redness, and impart suppleness. Be sure to suggest continuing care at home with retail.
Pre-, Post- & Home Care Products
Use prior to hard waxing to remove moisturizing creams, surface bacteria, and perspiration. It also prevents wax from becoming tacky, leaving less wax residue.
Imparting a light jasmine scent, this calming oil contains aloe.
Cleanse & soothe prior to soft waxing. Has Cetrimide BP to prevent bacteria from entering follicles.
Slow and soften future hair growth so waxing becomes easier and more comfortable.
Remove wax residue with a blend of hydrating oils. Available in Chamomile & Lavender and Unscented.
Recommend this effective super-concentrated cream to help clients prevent and treat ingrown hair.
Scientifically formulated with tea tree oil, resorcinol, bromelian, and vitamin A, it helps reduce inflammation and swelling of the hair follicle that can occur as the result of hair removal.
As an extension of the service, suggest this gentle serum for home care to help slow regrowth.
Contact us for more information about Mancine.
Training, Marketing Resources, & Integration
From staff training and online marketing tools to printable assets, we've got everything you need to integrate Mancine into your spa and help you make more money!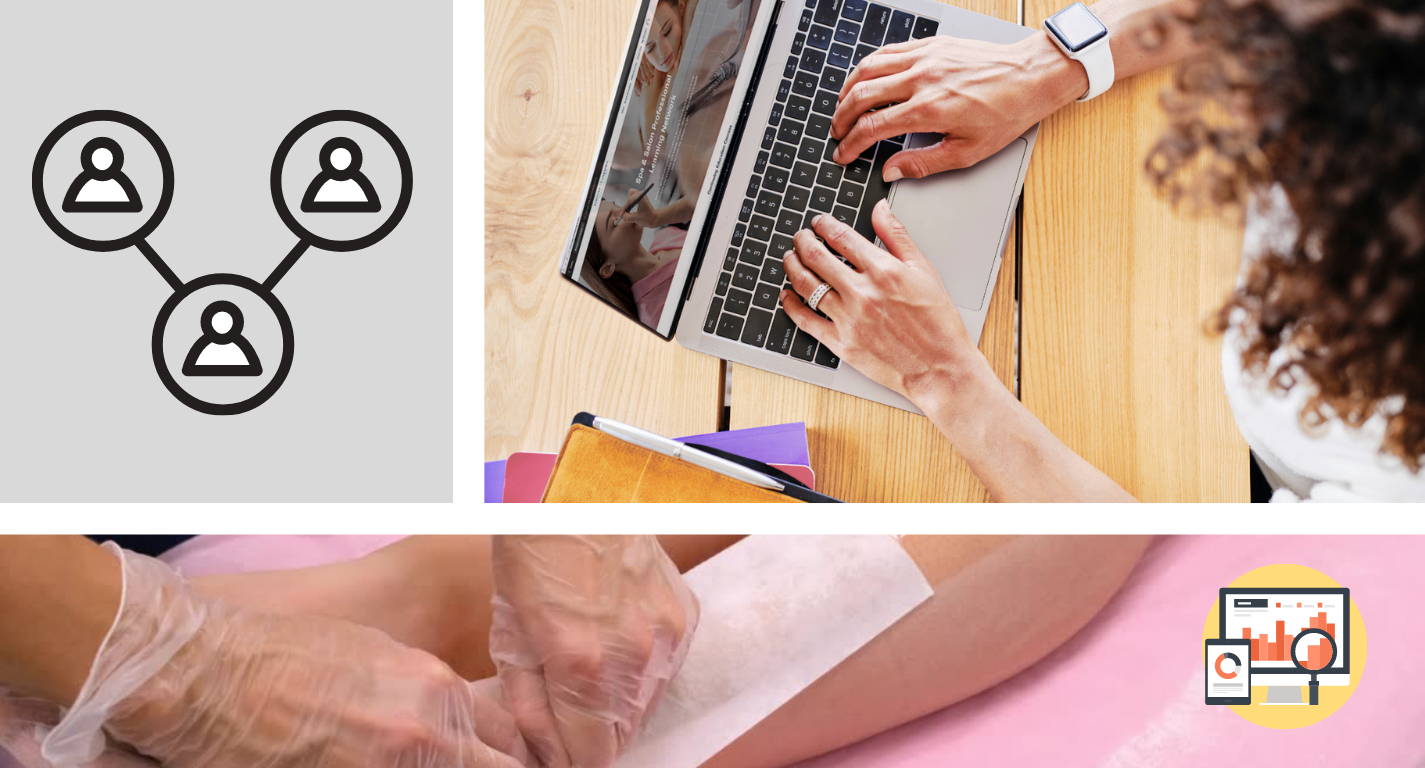 Learn product knowledge, key customer benefits, and merchandising techniques. Then, start engaging customers and driving traffic with pre-made social media posts, drag and drop Google ad campaigns, emails, and more.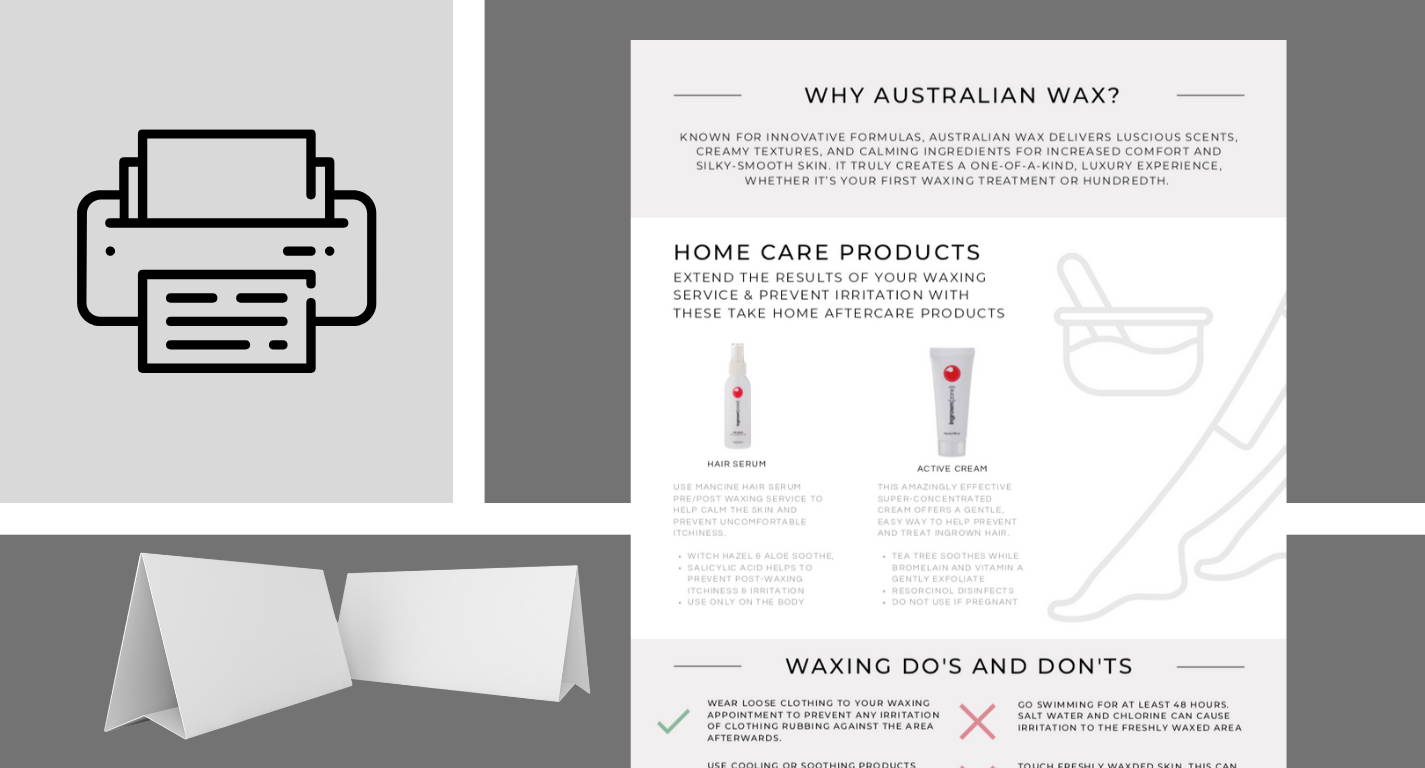 Cheat Sheets & Printable Assets
Download or print professionally designed marketing materials, including "cheat sheet" infographics that highlight the benefits of Mancine services. These materials help pique interest and boost revenue.