Immediately restore vital moisture and smooth away fine lines with native collagen and alginate masks.
These sheet masks are made with active native collagen, which is 97% compatible with the skin, so the skin recognizes it and receives its signals.
Derived from BSE-free bovine sources, the biomaterials, along with active key ingredients, deliver age-defying results.
Boost the efficacy of professional masks and promote instant hydration and a lifting effect.
Plump fine lines and wrinkles with this extremely calming mask. Recommended for sensitive skin.
Minimize signs of aging, neutralilze environmental influences and support the skin's natural balance.
Recover glow and even out skin tone while infusing the skin with much-needed moisture.
This collagen eye mask soothes and smoothes the thin, delicate eye area.
To visibly soften the skin, its native collagen fibers act as delivery system to replenish moisture.
Recapture a more defined, visibly firmer appearance of the eye zone with this alginate mask.
Exfoliate, comfort, or give skin an instant boost of hydration with these uniquely formulated emollients.
Deepen the skin's moisture reserves and increase its hydration while strengthening its barrier.
This effective "leave-on exfoliant" with 10 % AHA offers a brighter, more homogeneous complexion.
Glycolic acid sloughs away dead skin cells to reveal a more radiant layer underneath. Skin looks more evenly toned, and it feels firmer and smoother.
Reduce the appearance of environmental effects, such as redness, dryness, and dark spots.
Address skin concerns with specialized formulas for brightening, firming, and reducing loss of moisture
Effectively diminish the look of fine lines and wrinkles, and brighten discoloration.
Restore moisture, deliver comfort to red, congested skin with this potent concentrate.
Your clients will enjoy regained vibrancy and visible improvement of firmness.
This multi-active anti-aging eye care concentrate offers a more youthful-looking eye zone.

With resveratrol and anti-aging matrikines, it smooths out lines and wrinkles, invigorating the waning elasticity around the eye area.
Reduce transepidermal water loss, provide moisture protection, and deeply cleanse skin.
Opening Order Offer–Get 25,000 Good Karma Bonus Points!
Get started by building an opening order that's best for your business. Plus, if you purchase an opening order of $2,450 or more, you'll get 25,000 Good Karma points! (Valid on first time orders only.)
Contact us for more information on opening orders & bringing Reveel into your spa:
Staff Training, Marketing Resources, & Integration
From staff training and online marketing tools to printable assets, we've got everything you need to integrate Reveel into your spa and help you make more money!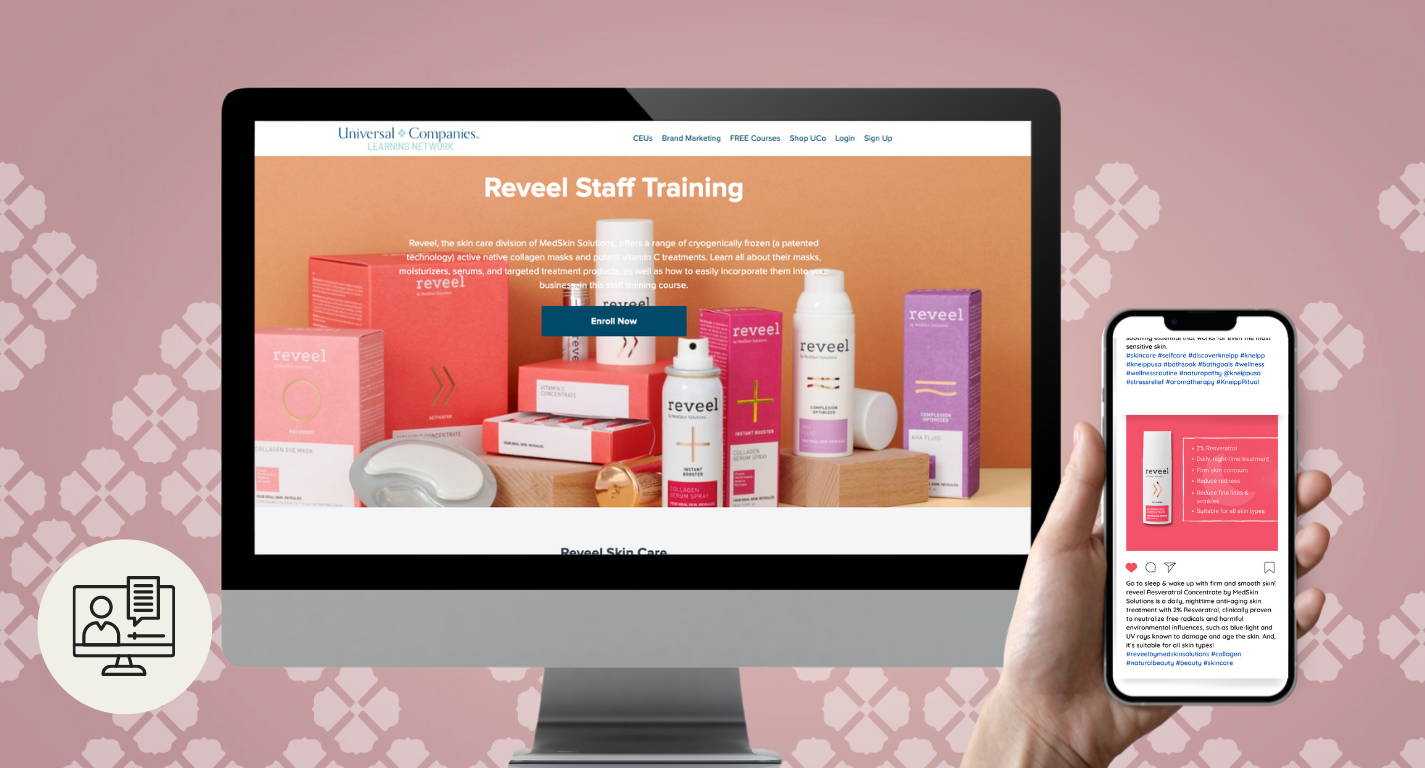 Staff Training & Marketing Resources
Learn product knowledge and key customer benefits. Then, start
engaging customers and driving traffic with pre-made social media posts,
emails, and more.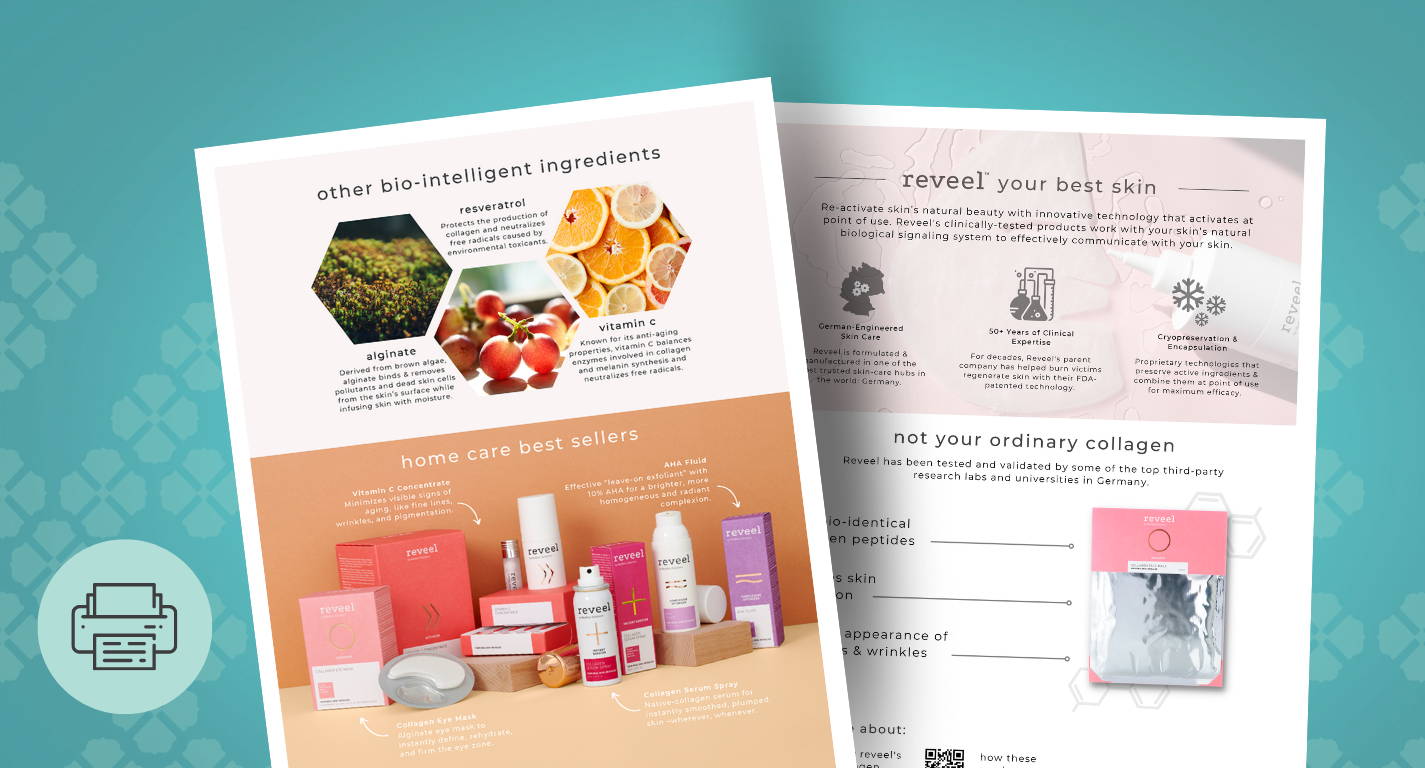 Cheat Sheets & Printable Assets
Download or print professionally designed marketing materials, including "cheat sheet" infographics that highlight the benefits of Reveel. These materials help pique interest and boost revenue.