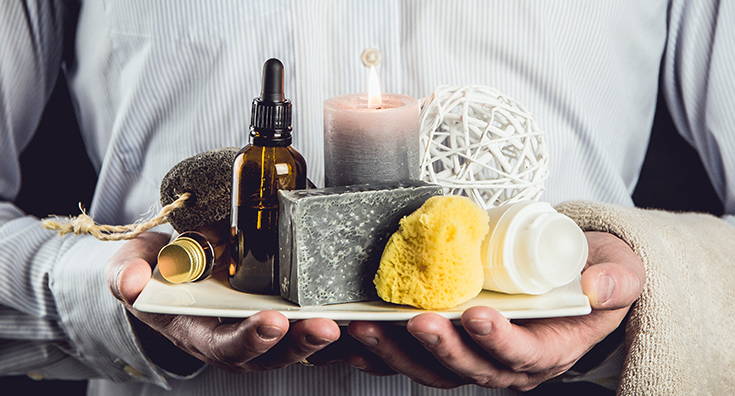 Making Scents of Aromatherapy for Men
Susan Bays, Staff Writer, Universal Companies
Catering to male spa clients requires minor adjustments, but it's mostly a matter of tweaking your professional product and retail selections to have a more masculine appeal. This is particularly true when it comes to aromatherapy.
Whatever you do, don't eliminate aromatherapy from your treatments and spa boutique altogether, assuming men simply won't be interested. Nothing could be further from the truth. Many men seek aromatherapy to relieve anxiety and pain and as an alternative health treatment.
Men stand to benefit from the emotional and physical effects of holistic aromatherapy as much as women do. You just need to know which oils to choose and the type of retail products that will appeal to your male clientele. Here are some guidelines to follow.
Aromatherapy for Men in the Treatment Room
Most men enjoy a wide range of essential oils with masculine aromas. These oils tend to fall into one of four categories: earthy, spicy, woody, citrus.
Earthy:
Clary Sage (ESR7715) – Euphoric, uplifting
Frankincense (ESR7725) – Tension reducer; commonly used as incense
Patchouli (ESR7757) – Grounding, adds depth to a blend; excellent for skin
Vetivert (ESR7780) – Grounding; known as the "Oil of Tranquility"
Spicy:  
Clove Bud (ESR7716) – Invigorating and uplifting
Cinnamon Leaf (ESR7713) – Very stimulating
Thyme, Sweet (ESR7779) – Warm and herbaceous
Marjoram, Sweet (ESR7751) – Soothing, warming, and fortifying
Myrrh (ESR7754) – Warm and rich
Woody:
Cedarwood, Atlas (ESR7708) – Warm and sweetly balsamic
Pine, Scotch (ESR7762) – Sweet and spicy balsamic, very clearing
Sandalwood (ESR7770) – Deep sweet and woody tones
Juniper Berry (ESR7735) – Sweet, fresh, and energizing
Citrus:
Lime, Distilled (ESR7747) – Refreshing and uplifting, with a sharp aroma
Orange, Sweet (ESR7756) – Sweet, uplifting, and fruity
Blood Orange (ESR7558) – Energizing
Grapefruit (ESR7729) – Uplifting
Lemon (ESR7745) – Sharp, cleansing aroma
Mandarin (ESR7749) – Uplifting, fruity
Try these massage oil blend recipes that will appeal to men and that you can easily mix yourself.
No matter how you are incorporating aromatherapy into your treatment—massage, bath soak, steam room, facial, or simply diffusion—and whether your client is male or female, always be sure to follow the appropriate contraindications for the essential oils you are using.
Retailing Aromatherapy for Men
When it comes to retail aromatherapy for men, make it easy for them to translate their spa experience to their home. Explain how you're using oil in their treatment and then personally show them products with similar scents and benefits in your retail boutique. Here are some of our favorites that will be a hit with the men in your spa:
ESS® Aromatherapy Energize Body Wash (ESR7569) – This natural body wash will give him a wake-up call in his morning shower with an energizing blend of bergamot, frankincense, grapefruit, lime, sweet orange, elemi, peppermint, cardamom, spearmint, and cedarwood Himalayan essential oils.
ESS® Aromatherapy Headache Relief Essential Oil Blend (ESR7561) – Roman chamomile, grapefruit, lavender, lime, rose, basil, peppermint, and eucalyptus radiata will loosen him up and give him a relaxing sense of harmony.
ESS® Aromatherapy Balance Essential Oil Blend (ESR42) – This blend promotes inner harmony using French lavender, spikenard, eucalyptus globulus, balsam fir, Cedarwood Himalayan, Spanish marjoram, and frankincense.
NEW! Sanari Plant-Based Candles – These organic candles, poured into beautiful stemless wine glasses, are clean burning and non-toxic. Made with essential oils blended in pure coconut wax and non-GMO soy wax, they have a natural scent and promote well-being. Wide wicks made of 100% unbleached cotton provide a clean, pure, and long-lasting burn. This material also creates a unique triangular glow, embodying the unity of spirit, mind, and body. Some of our most masculine scents include:
---
Universal Companies is proud to have a team of experienced spa advisors on staff and welcomes you to consult with our professionals about spa products and supplies, including ingredients, equipment, and retail. Dedicated to the success of spa professionals everywhere, we're grateful to be recognized with the American Spa Magazine Professional's Choice Award, Favorite Distributor of the Year for many consecutive years. (Thank you!)