10 Disinfection Tips for Your Salon
Properly cleaning and disinfecting keeps your business safe. However, with all the continuous cleaning and disinfecting, it's easy to forget some areas. Plus, there are also some preventive measures you can take to minimize the spread of germs. To help you protect your clients and staff, we created a list of tips to share with you.
Our tips feature Force of Nature hospital-grade disinfectant, as this eco-friendly brand is on the EPA's List N (disinfectants approved for use against SARS-CoV-2, the cause of Covid 19) and List Q (disinfectants approved for use against emerging viruses like monkeypox). We also recommend it because it's gentle on lungs and skin–it contains no allergens, irritants, or added fragrances.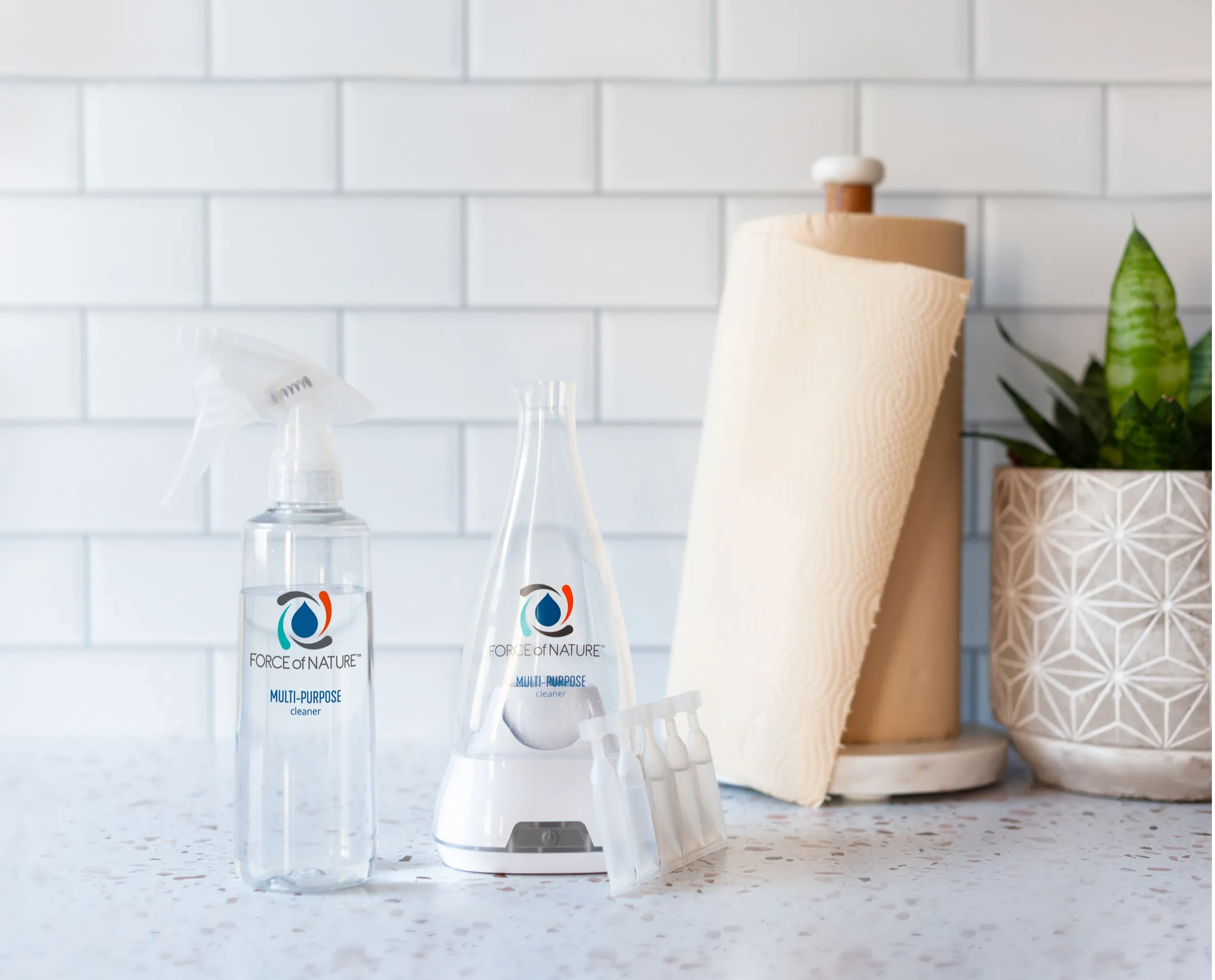 1. Know the difference between disinfecting and cleaning.
Cleaning is the reduction of germs on a surface by removing debris and dirt. Disinfecting is a regulated term that's governed by the EPA. To be registered as a disinfectant, a product must show that it kills 99.9% of a specified set of germs on a surface within a specific "dwell time." To disinfect effectively, the disinfectant needs to be able to come into contact with as much of the surface as possible, so it's important to clean the surface first.
2. Spray down your waiting room.
Gone are the days where clients could share magazines and sample products in the waiting area! Force of Nature is safe to use on virtually every surface, including sealed marble and other stones that etch easily. So, you can disinfect your waiting room surfaces without worrying. It's also an effective spot treatment and stain remover for upholstery, but always spot test first to make sure the fabric is truly colorfast.
3. Keep breakrooms clean and germ-free.
From bathroom door handles to the pens at your checkout counter, high touch areas are places that are commonly handled by clients and staff. Here are some other places to disinfect regularly:
Door handles
Drawer knobs and cabinet pulls
Faucet handles
Toilet tank lever
Break room equipment like microwaves and fridge handles
Coffee machine buttons and surfaces

4. Go contactless.
Take advantage of contactless payment options and digital appointment confirmations and reminders. These will help you cut down on handling credit cards, pens, and screens.
5. Disinfect salon chairs.
Between clients, use Force of Nature to disinfect your salon chairs and treatment tables. You can spray directly on the surface and wipe with a soft cloth. There's no need to rinse surfaces your clients will touch. Force of Nature is certified SkinSafe by the Mayo Clinic and is allergen free and gentle enough to use around your clients and staff throughout the day.


6. Disinfect hair tools, combs, & brushes.
Hypochlorous acid (the active ingredient in Force of Nature) is gentle enough to spray on your skin. So, you can disinfect styling tools with a spray of Force of nature or by wiping them down with a wipe soaked in Force of Nature. Make sure any heat tools you spray are unplugged and cool before disinfecting.


7. Disinfect gadgets
Give computers, phones, and tablets a wipe down with a cloth that has been sprayed with Force of Nature to disinfect their surfaces. Never spray liquid directly onto electronics.
8. Don't forget refreshment areas.
If you offer coffee, tea, and snacks, you can use Force of Nature to disinfect surfaces without worrying about using harsh chemicals around food and drink items.
9. Prioritize high touch areas.
Disinfect high touch areas like light switches, door handles, and bathroom surfaces with a spray of Force of Nature.
10. Let clients know that you have their safety in mind.
If you use Force of Nature, promoting your safe, sustainable cleaning practices in social media is easy. Your UCo team has created pre-made social posts for you! Just download them to share.
---
Universal Companies is proud to have a team of experienced spa advisors on staff and welcomes you to consult with our professionals about spa products and supplies, including ingredients, equipment, and retail. Dedicated to the success of spa professionals everywhere, we're grateful to be recognized with the American Spa Magazine Professional's Choice Award, Favorite Distributor of the Year for many consecutive years. (Thank you!)