How Force of Nature Can Replace All Your Spa's Cleaning Products
As business owners, we must make a lot (A LOT!) of decisions every day, many of which have nothing to do with the reason we got into business in the first place. A great example of this is managing inventory and the safe usage of multiple cleaning products. From medical offices to spas, every business faces the need to keep their environment clean and disinfected and their clients and employees safe. By and large, the products they trust for this purpose often contain harmful, toxic chemicals. These chemical exposures come at a huge cost to the health and well-being of employees and clients. One study found that the damage to our lungs from daily cleaning product exposure is equivalent to smoking a pack of cigarettes a day! It's no wonder that exposure to these products is becoming a public health concern. Force of Nature changes all that.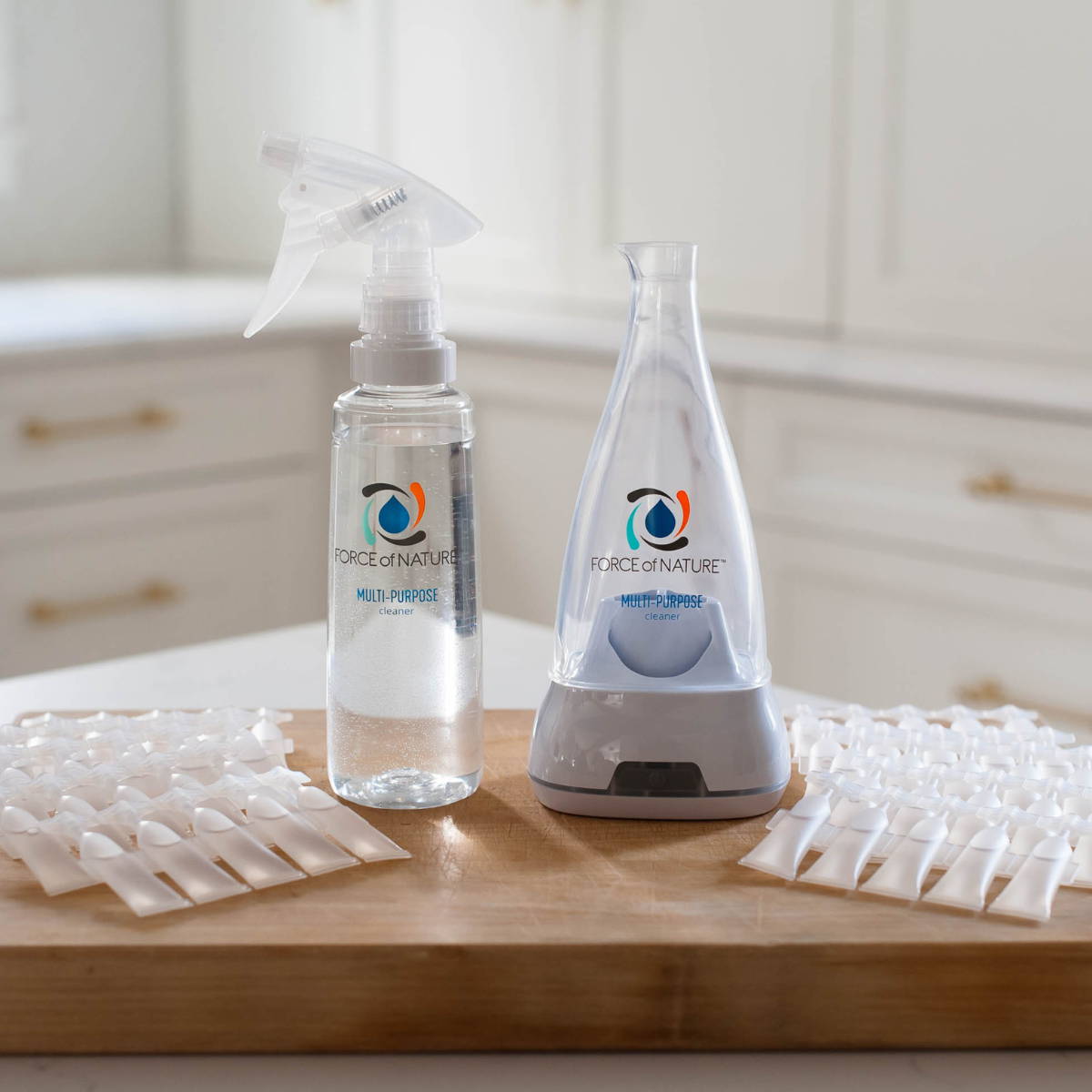 Safe Cleaning & Disinfection
Force of Nature is a hospital-grade, EPA-registered disinfectant that kills 99.9% of germs including Staph, MRSA, Norovirus, Influenza A, Salmonella, and Listeria when used as directed. It's EPA-registered and on the EPA's List N for disinfectants approved for use against SARS-CoV-2, the cause of COVID-19. Free from skin and respiratory irritants, Force of Nature is so gentle it requires no rinsing! You can feel good about your employees using it to clean and disinfect surfaces in your spa that they and your clients have direct contact with.
8 Tips for Replacing Your Cleaning Products with Force of Nature
Here's how you can use Force of Nature to replace virtually every other cleaning and disinfecting product you use in your business while effectively protecting your employees and clients from sickness-causing germs, viruses, and bacteria.
1. Kitchen/Break Room All-Purpose Cleaner
Food prep and dining areas need to be cleaned and disinfected frequently to avoid cross-contamination and the spread of germs and bacteria. Luckily, you can swap out your kitchen and dining area cleaners for Force of Nature, including your multipurpose cleaner, sink cleaner, tile, and countertop sprays–even your fruit and veggie rinse! Force of Nature doesn't leave behind any harmful film or residue, and you don't need to rinse after use, so it's a great choice for food prep and eating surfaces.
2. Bathroom All-Purpose Cleaner
When it comes to cleaning and disinfecting your business, bathrooms are always a priority location due to being a hotspot for germs, viruses, and bacteria. Force of Nature can be used to clean, sanitize, and disinfect all your bathroom surfaces including toilets, showers, sinks, paper towels, soap dispensers, handles, latches, door handles, and even tile, grout, and ceramic surfaces. For stubborn mildew and other grout stains, leave Force of Nature on for a few minutes before scrubbing with a brush.

3. Glass and Mirror Cleaner
While many glass cleaners contain toxic chemicals like ammonia and alcohol, Force of Nature doesn't–so you can use it without gloves, eye protection, or a mask. Spray then wipe until the surface is 100% dry with a soft cloth or paper towel.
4. Floor Cleaner
Force of Nature is an incredible floor cleaner and can be used on any sealed stones like granite, marble, and quartz as well as finished and unfinished hardwood, laminate, stainless steel, porcelain, plastic, cork, concrete, acrylic, fiberglass, and rubber. For quick cleanups and small spaces, Force of Nature can be used in the canister of a refillable spray mop.


5. Carpet and Upholstery Cleaning & Stain Treatment
Furniture and carpeting can get stained and it's easy to reach for a product like Resolve, which contains some strong, toxic ingredients. Instead, use Force of Nature as a stain treatment and carpet cleaner–you can even use it in your carpet cleaning machine in place of a more toxic solution.

On spills and stains, treat the problem as quickly as possible like you would with any other stain remover. Always first test in an inconspicuous spot to ensure the dyes used are truly colorfast and wait until the tested area is dry before proceeding. This is because there's a wide variety of dyes, fibers, and processes for making fabrics and rugs colorfast. Blot the spill, spray Force of Nature, then wipe (repeat if necessary). It cleans as well as Resolve and won't remove color like bleach does on colorfast rugs and upholstery.


6. Equipment and Surface Cleaner & Disinfectant
Force of Nature can be used virtually anywhere for any job requiring cleaning, deodorizing, or disinfecting, and won't cause damage to your valuable equipment. This 3-in-1 cleaner, deodorizer, and disinfectant can help you clean and disinfect wood, laminate, glass, stainless steel, plastic, rubber, vinyl, sealed stone, porcelain, high-touch surfaces, and more. For technology, like computers, keyboards, and tablets, power the device down first and wipe them with a cloth that has been sprayed with Force of Nature.
7. Metal & Natural Stone
Many cleaning products can be harsh on surfaces and cause damage to natural stones. Force of Nature can replace your specialty marble and granite cleaners on stone and other natural surfaces and is safe to use on sealed stone. Unlike vinegar, Force of Nature is safe on sealed stone because of the chemical change that happens when the solution is electrolyzed.
8. Deodorizer
Force of Nature is a powerful deodorizer because it kills the bacteria that causes the odor. You want to saturate the source of the odor, then let dry naturally. If the odor is on a rug or carpet, make sure to start with your test in an inconspicuous spot first to confirm the dyes are colorfast.
We're proud to offer this on-demand disinfecting solution that business owners can make whenever they need it, with no hoarding or stressing about price increases or shortages. By using only one product at 8 cents per ounce, you'll also love the space and cost savings! To get started, choose a kit that's right for your business: The Pro Commercial Kit for larger spaces and the Starter Kit for retail, smaller spaces, and independent practitioners.
---
Universal Companies is proud to have a team of experienced spa advisors on staff and welcomes you to consult with our professionals about spa products and supplies, including ingredients, equipment, and retail. Dedicated to the success of spa professionals everywhere, we're grateful to be recognized with the American Spa Magazine Professional's Choice Award, Favorite Distributor of the Year for many consecutive years. (Thank you!)