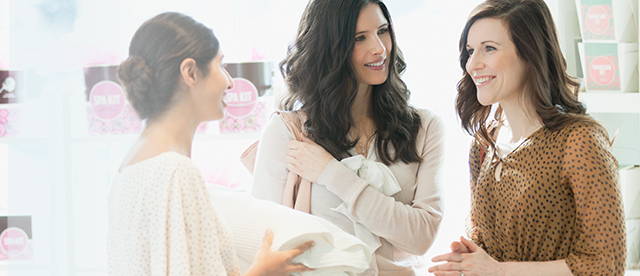 The Secret To Selling More Retail
There's a simple secret to selling more retail: personalize it! With just a few intentional tweaks, you can enhance your clients' shopping experience and make a big difference in your revenue stream. Take a look:
Take Inventory & Get Creative with Displays
Review your retail inventory, asking yourself, "Do these products represent my brand?" Do they fit into your vision of your customer's complete experience at your spa? Is the packaging intact or damaged and needing to be replaced?
Create visually attractive displays, including logical placement of products. Products that can be used together should be displayed together. For instance, place an exfoliating body brush next to body wash.
Place testers with displays when appropriate and assure they are properly labeled and clean at all times.
Make the Connection Between Retail & Treatments
Include products used in treatments as part of your retail inventory. Your clients should be able to purchase almost every item they've experienced during their visit. In addition to skin care products, robes, slippers, hand soap in the restroom, luxurious sheets and sumptuous blankets on your treatment tables, beverages offered before or after treatments–all should be available for purchase.
Describe a few key products you feel are especially beneficial to your guest during the treatment. Don't overwhelm them with information, like main ingredients and their benefits. Just let the guest know these products are available for purchase and you will be creating a recommendation sheet for them to review after the treatment.
At the end of the treatment thank the guest for coming in and remind them of the products you spoke about during treatment. Let them know that their custom created retail basket will be awaiting them in the spa boutique.
Be Ready with Personalized Assistance
Assemble the product lineup that is appropriate to your guest's needs. The goal here is to add value to their experience. Be available to answer questions about your recommendations or have a retail associate go over the recommendation form with a client. The key here is having a great retail staff to close the sale.
Offer complimentary gift wrapping and free samples of your top selling products for them to try (value add). Let the guest know about any upcoming events, promotions, or sales.
Make Them Want to Come Back
Thank the customer again for visiting your spa and purchasing the products. Give them your business card so they can call back to re-order.
If the sale is over $200, send the guest a thank you card and let them know you will be happy to assist with any future questions or re-orders. Include your personal business card.
---
Universal Companies is proud to have a team of experienced spa advisors on staff and welcomes you to consult with our professionals about spa products and supplies, including ingredients, equipment, and retail. Dedicated to the success of spa professionals everywhere, we're grateful to be recognized with the American Spa Magazine Professional's Choice Award, Favorite Distributor of the Year for many consecutive years. (Thank you!)