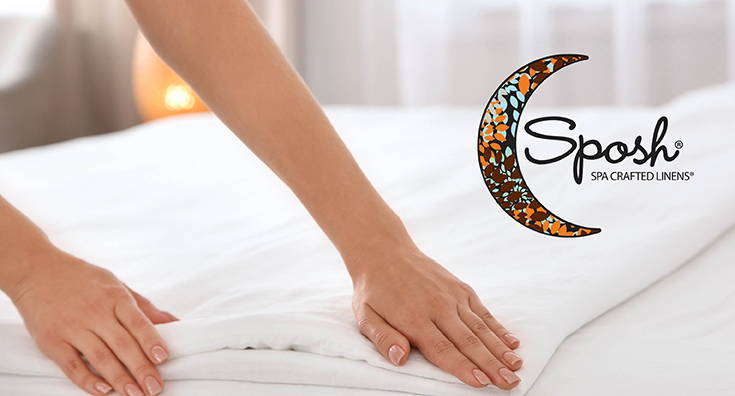 Launder Sposh Linens with Confidence
SPOSH—Great Style, Exceptional Comfort, and Luxurious Elegance at Affordable Prices for You and Your Guests.
Sposh high quality microfiber spa linens offer performance, design variety, and a luscious feel that gets better with EACH laundering. You can feel good about using Sposh linens because each wash uses less water and energy than traditional linens.
TIPS AND IMPORTANT NOTES
• Pre-treat stains as soon as you can and allow to sit for at least five minutes. For tougher stains, consider using a pre-wash enzyme treatment (see reverse).
• Do not use liquid fabric softener or dryer sheets. These tend to act as wax and clog the micro spaces and fibers that allow the fabric to be antimicrobial.
• Wash separate from other fabrics such as cotton or fabrics that shed, as this can potentially clog microfiber pores. Wash alone or with other lint-free materials.
• Avoid washing with colors that might fade onto your microfiber sheets.
• Wash on low temperature setting. This preserves the material's structure and prevents pilling and balling.
• To help the microfiber stay strong and last longer, avoid using bleach. Keep away from acetone and other strong acids, as they can shatter nylon fibers. (Clean rinsing liquid detergent is better than mainstream or powder detergent.)
• Dry on low and cool settings. Drying on warm/hot or overdrying microfiber will cause shrinkage and can damage the material. (Drying time is approximately 15 minutes or less, depending on load size.)
• Remove promptly at end of drying time to prevent materials from sitting on hot metal dryer drum for an extended period of time.
• With proper care and maintenance, your microfiber sheets can last 300-500 washes.
• DO NOT USE BLEACH (Chlorine bleach solutions below 12% are acceptable when used sparingly, but not recommended.)
---
KEEP YOUR LINENS CLEAN AND FRESH WITH COMPLETE PRO PREMIUM LAUNDRY FORMULAS
This collection of laundry pre-treatments and detergents—perfect for spas, salons, and fitness facilities—delivers quality at a competitive price.
---
Universal Companies is proud to have a team of experienced spa advisors on staff and welcomes you to consult with our professionals about spa products and supplies, including ingredients, equipment, and retail. Dedicated to the success of spa professionals everywhere, we're grateful to be recognized with the American Spa Magazine Professional's Choice Award, Favorite Distributor of the Year for many consecutive years. (Thank you!)