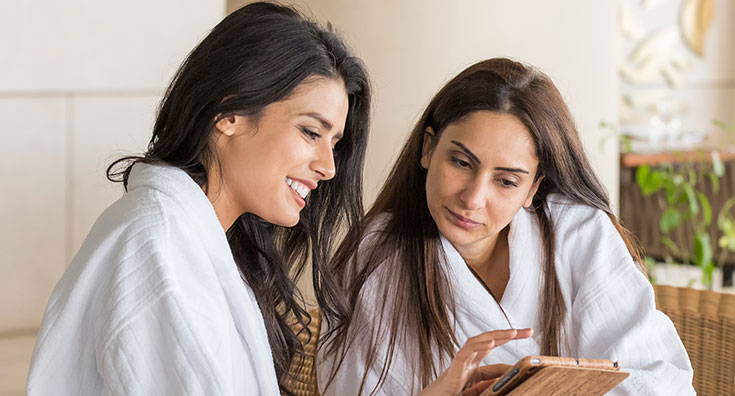 Spa visits are no longer a vacation treat or luxury gift. In 2016, 13.71 million people visited a day spa at least once during the year. With more than 21,000 spas in the U.S., how can you stand out and capture your share of this multi-billion-dollar market?
Spa Details That Make a Competitive Difference
To remain competitive, regularly review your service menu, spa supplies, staffing, and space. It can be overwhelming to consider everything at once, so start with one area that can make a big difference: spa supplies. Your choice of supplies speaks volumes about you and your clients. What are your products and supplies saying about you?
Although spa visits are no longer marketed as a luxury item, spa visitors still want to feel pampered. Regardless of your budget and clientele, you can create a luxurious experience by focusing on key details that begin with your spa supplies.
Create a Soothing Escape
When people want to create a spa feeling at home, Pinterest tells them to focus on baskets of fluffy white towels, delicious-smelling candles or diffusers, and fresh flowers in clean glass vases. Meet clients' expectations by looking at your spa through a Pinterest lens: when clients enter your spa, what do they smell, hear, and see?
Use smell and sound to immediately transport visitors to a relaxing escape. Strategically place candles or diffusers in the public spaces and treatment rooms. Choose music that sets the tone for a client's experience and if possible, keep speakers and electronic equipment out of sight.  
Whether your spa's vibe is hip and modern or shabby chic, aim for clean, uncluttered spaces. Retail products should be invitingly displayed, and bathrooms and waiting areas should be welcoming. Greenery or fresh flowers always add a luxurious touch.
Spa Products Convey Luxury
Think about the difference between drying your hands on a scratchy paper towel and a soft cloth towel. Which experience do you prefer? At every decision point in buying products for your spa, choose the items that give spa visitors a feeling they want to recreate.
We know that budgets are a crucial factor in decisions about spa product purchases, so Universal Companies offers high-quality professional spa supplies at a variety of price points. Our product experts can talk to you about the differences in our product lines and help you create exceptional client experiences on your budget.
Know Your Treatment Supplies
Spa owners and staff must be product experts. Understanding your spa products as well as your competitors' allows you to better convey the benefits of your selections. When choosing treatment supplies, ask what message your choices send to current and potential clients.
When selecting spa products:
Know your clients

Choose high-quality brands and formulations

Offer consumer information about the products and treatments you offer

Select lines that include home care retail products for clients

Consider the availability of sample and travel sizes
Extend Your Spa Experience to Your Clients' Homes  
As you had hoped, your client loved the treatment they received. Are you prepared to help them recreate or build upon that service at home? Selling spa products post-treatment should be an organic part of the experience. For the client, it's a way to extend the benefits of the treatment. For you, it's less expensive to retain customers than to attract new ones. Many spas don't realize that retail sales help with customer retention. A recent study reveals these stats:
Guests who purchase 0 products -- 10% chance of revisit

Guests who purchase 1 product -- 30% chance of revisit

Guests who purchase 2+products -- 60% chance of revisit
Many spas also don't maximize the retail opportunity in helping clients recreate the spa experience at home. You can sell everything from the scents and sounds of your spa to the cotton pads or terry headbands used in treatments. If your spa supplies send the right message to your clients, they will want to take some home and return for more.  
---
Universal Companies is proud to have a team of experienced spa advisors on staff and welcomes you to consult with our professionals about spa products and supplies, including ingredients, equipment, and retail. Dedicated to the success of spa professionals everywhere, we're grateful to be recognized with the American Spa Magazine Professional's Choice Award, Favorite Distributor of the Year for many consecutive years. (Thank you!)