Sculpt Your Clients' Face with Rejuvenating Facial Gua Sha Massage
By Lori Vargas, Founder of 360 Wellness Education
Increase lymphatic flow with an age-defying gua sha facial massage. Benefits include the promotion of cellular repair, a boost in circulation, and reduction muscle tension. A gua sha tool scrapes and glides over the contours of the face to stimulate lymph circulation and drainage, restore collagen and elastic fibers, and support a sculpted appearance. Facial gua sha massage utilizes gua sha tools that are applied to the skin and gently glided over the skin at varying angles based on the contours of the face region.
Gua sha tools vary in design, size, weight, material, and features so it is important to select the tools based upon the intended usage. I recommend starting with the heart-shaped tool for the face. This design allows for sculpting with the double notched edge, lymphatic movement with the long edge, and acupressure with the rounded notches for smaller facial features.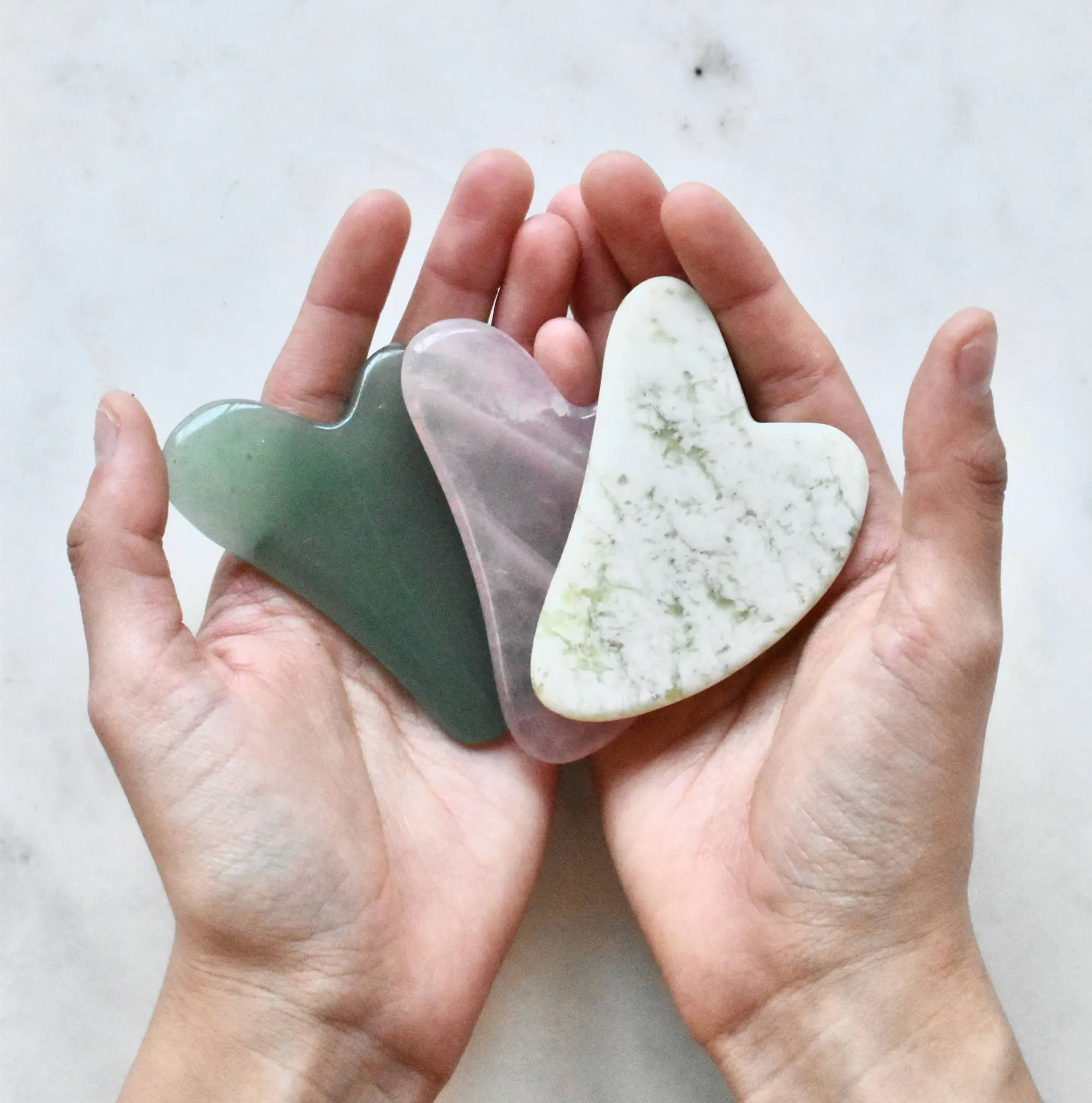 Note that performing facial gua sha should not leave marks when light to medium pressure is applied. However, a petechial reaction can occur, but will dissipate in a short amount of time. Because the material of the tools vary, this will impact how deep the tool resonances into the tissues, causing tissues to release toxins, activate the lymphatic system, clear the veins, arteries, and capillaries, and to activate the skin.
Gua sha scraping strokes integrate pressure, stone angle, and speed. These elements allow for various types of treatments including lymphatic movement, tonifying, and purging. The emphasis on tonifying and lymphatic movement is intended to improve circulation, promote lymphatic flow and drainage which reduces puffiness and inflammation.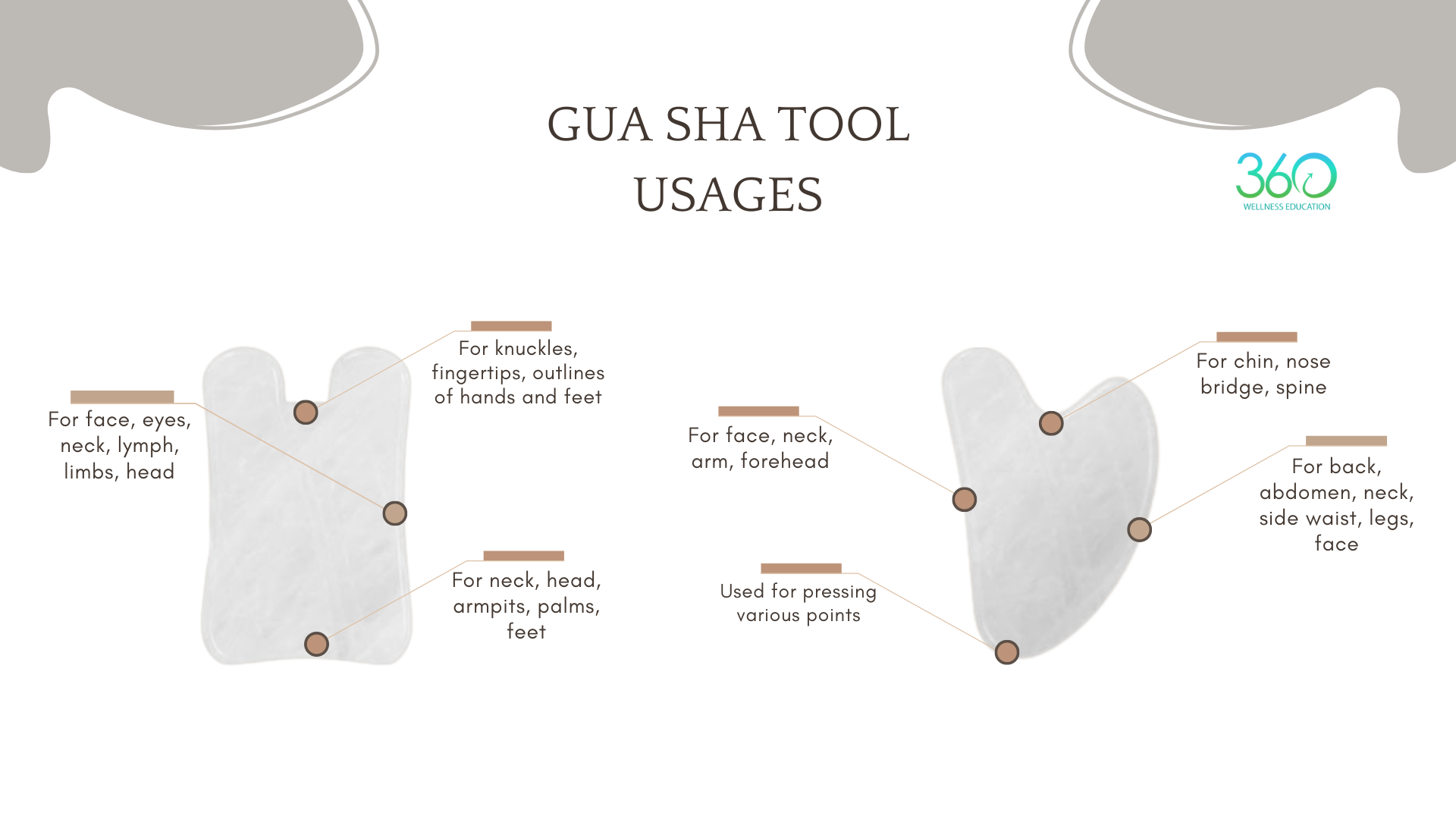 The sequence of a treatment aids in optimizing the gua sha benefits. The massage helps the blood circulate and lymph fluids drain, thereby oxygenating the skin as it brings in nutrients and vital vitamins. It is important to be mindful of the amount of pressure used, which will induce the effects without visible marks.
This brief video shows lymphatic movement on the décolleté using a two-handed technique and draining towards both axillary lymph nodes. Keep in mind that lymphatic flow should never be directed toward compromised lymph nodes.
Gua sha therapy is one of my favorite modalities because it's benefits reach numerous body systems simultaneously. Consistent gua sha use promotes circulation to boost the production of critical skin proteins like collagen and elastin, improving firmness and elasticity.
Facial gua sha massage benefits include:
• Nourishes blood supply to the skin and increases suppleness in even the most superficial skin layer
• Helps firm lost skin elasticity
• Boosts collagen formation to aid in diminishing fine lines and wrinkles
• Reduces puffiness under eyes, chin, and jowls due to improved drainage
• Deeper cleanse due to removal of congestion
• Aids in relief from sinus pressure and congestion
• Improves skin tone and texture with stimulation of collagen and elastin production
• Enhances product absorption
• Aids in the detoxification of skin by drawing impurities to the surface for toxin removal
• Relaxes facial muscles for a more youthful, less stressed appearance
• Improves and softens scar tissue
1. Integrate lymphatic support with the facial gua sha massage to optimize client benefits.
2. Use light to medium pressure to minimize leaving any temporary marks on the face region.
3. Utilize gua sha as a tool and integrate them in all facial treatments based on the needs and objectives of the client.

Expand your service menu with a modality that can be an enhancement to other treatments or as a stand-alone. The tools are relatively inexpensive and mastering the skill will practice should not take too long.
Advanced Education & Products to Help You Take Advantage of This Trend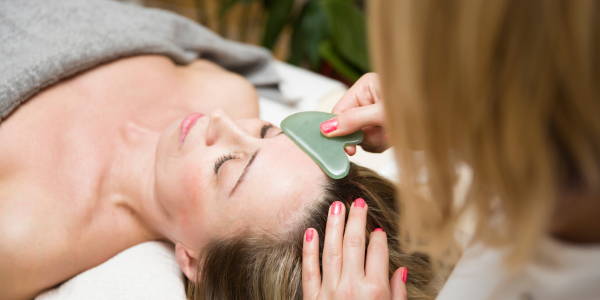 360 Method Gua Sha & Face Rolling Massage Training & Certificate
Earn 2 CEUs learning the principles of facial gua sha and face rolling massage with techniques and protocols. You'll discover how to integrate these tools into your facial massage to provide a customizable experience that aids in microcirculation and reduces puffiness and inflammation. Additionally, you'll learn the 360 Method Facial Zone Massage benefiting lymphatic flow, toning, and sculpting, resulting in healthier skin with full face ritual and spot treatments.
About Lori Vargas, MBA (she/her/hers)
Lori Vargas, founder of 360 Wellness Education, has over 20 years in the spa industry as a founder of multiple spas, a massage school, and as a spa consultant. She also has 14 years of experience guiding Fortune 500 Companies with corporate strategies and business development. Lori holds a CPA and MBA from the University of Chicago.

To complement her online 360 Wellness Education courses, Lori has created an educational community focused on connections and growth through 360 Wellness Education CORE Membership. This membership provides easy access to affordable on-demand advanced education, live webinars (sip & learn style), Facebook private group, newsletters, and live events. Follow on Instagram at @360WellnessEducation .

In addition to CORE Membership and her other online courses, Lori offers 360 Business Workshops. This live webinar series focuses on business start-up and development, sharing valuable insight, advice, and templates to jumpstart business growth and maximize success.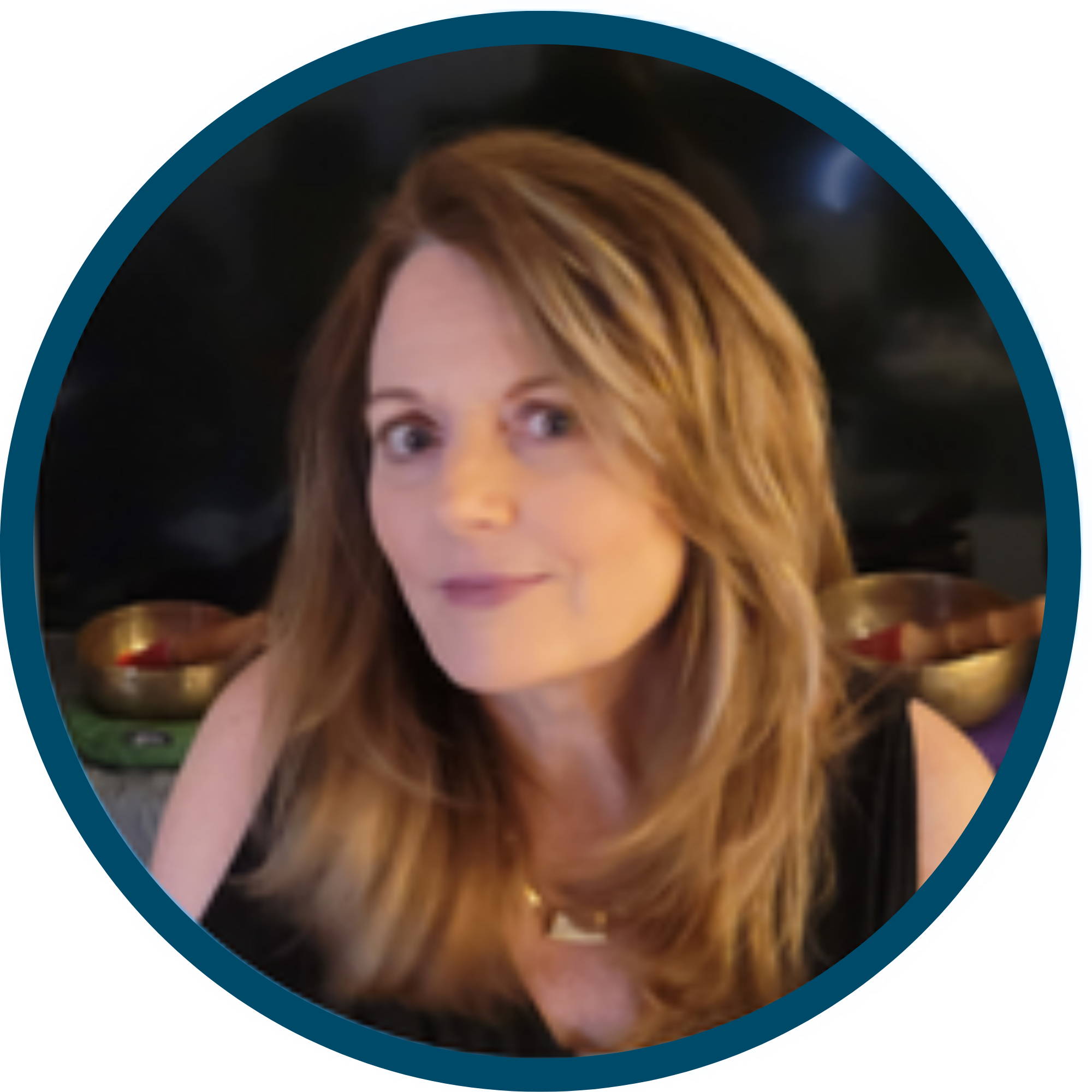 Universal Companies is proud to have a team of experienced spa advisors on staff and welcomes you to consult with our professionals about spa products and supplies, including ingredients, equipment, and retail. Dedicated to the success of spa professionals everywhere, we're grateful to be recognized with the American Spa Magazine Professional's Choice Award, Favorite Distributor of the Year for many consecutive years. (Thank you!)