How to Select a Waxing Hair Removal System
By Lori Vargas, founder of 360 Wellness Education
There are numerous characteristics and functions to consider when selecting waxing products and waxing accessories that will be appropriate for a Waxing Practitioner. Professional waxers (estheticians and cosmetologists) have the training and experience to perform hair removal treatments, but the outcome of those treatments is dependent on the products and equipment. Adding or switching a new waxing line is an investment, so be sure to research and consider the practitioners, the business philosophies, clients, and efficacious quality ingredients.
Make sure the waxing system has the right inclusions for you and your clients' needs. Waxing systems should include wax, a wax warmer, pre & post-wax care, and accessories for a complete service. These inclusions should also be specially geared and formulated for the service areas you'll be working with, whether facial, intimate, hard-to-reach, or large surfaces.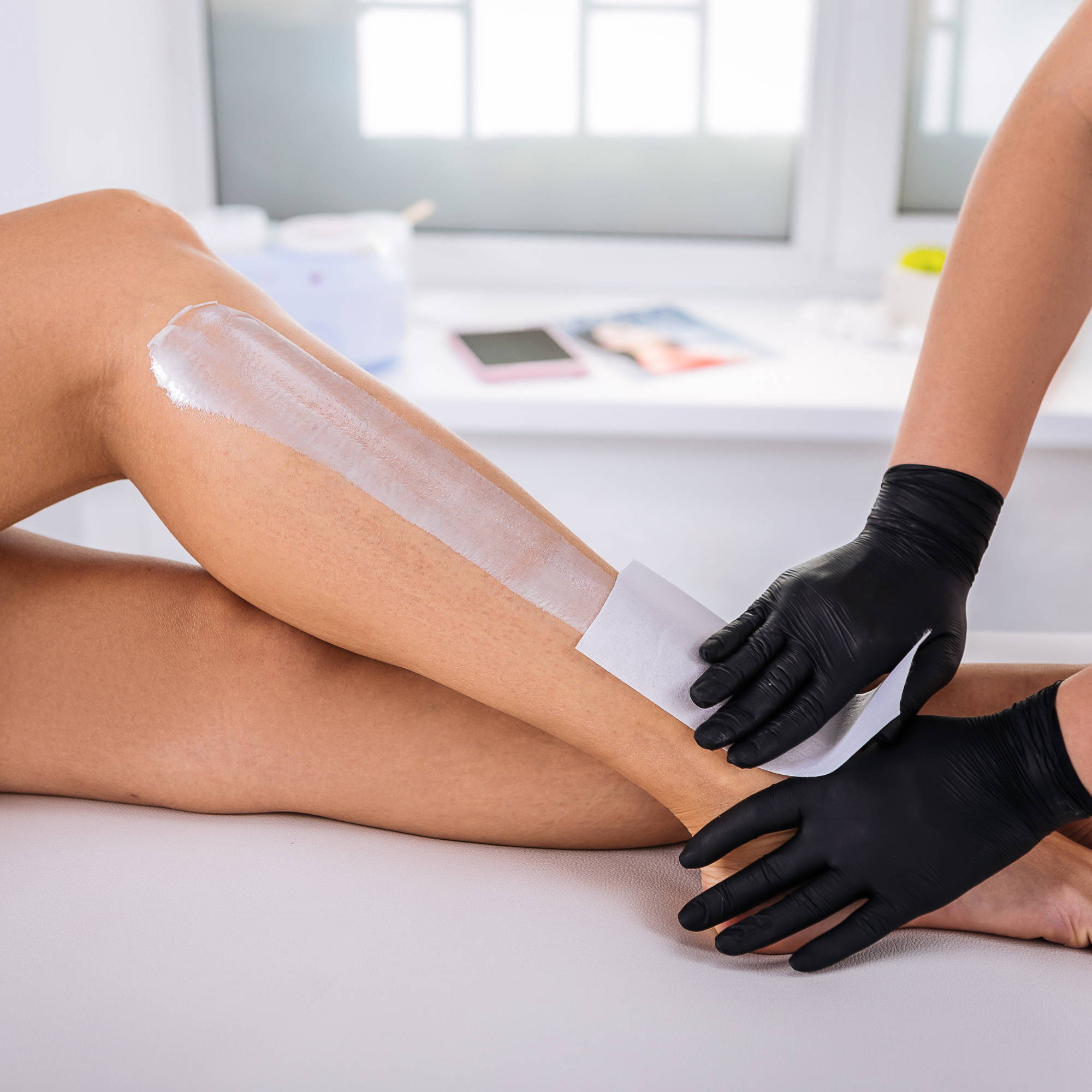 Initial Determining Questions
• What type of waxing treatments will you be performing?
        o Facial removal?
        o Body hair removal?
        o Intimate hair removal?
• What skin types and hair types will you be working with?
• How much waxing will you be doing daily or what is your waxing volume?
• How much space do you have for a waxing station?
• What type of wax will effectively support the service to be performed?
6 Key Components to Look for in a Waxing Product Line
The importance of having a product line that has all components insures that the product ingredients will perform optimally and are intended to work cohesively.
1. Variety of Wax Types

a. Wax types include hard wax, soft wax, and film hybrid wax that are designed for different hair types, skin types, techniques, and body regions.
b. Select a product line that has a variety of wax types to support a wider audience or clients with different skin and hair types based on waxing techniques.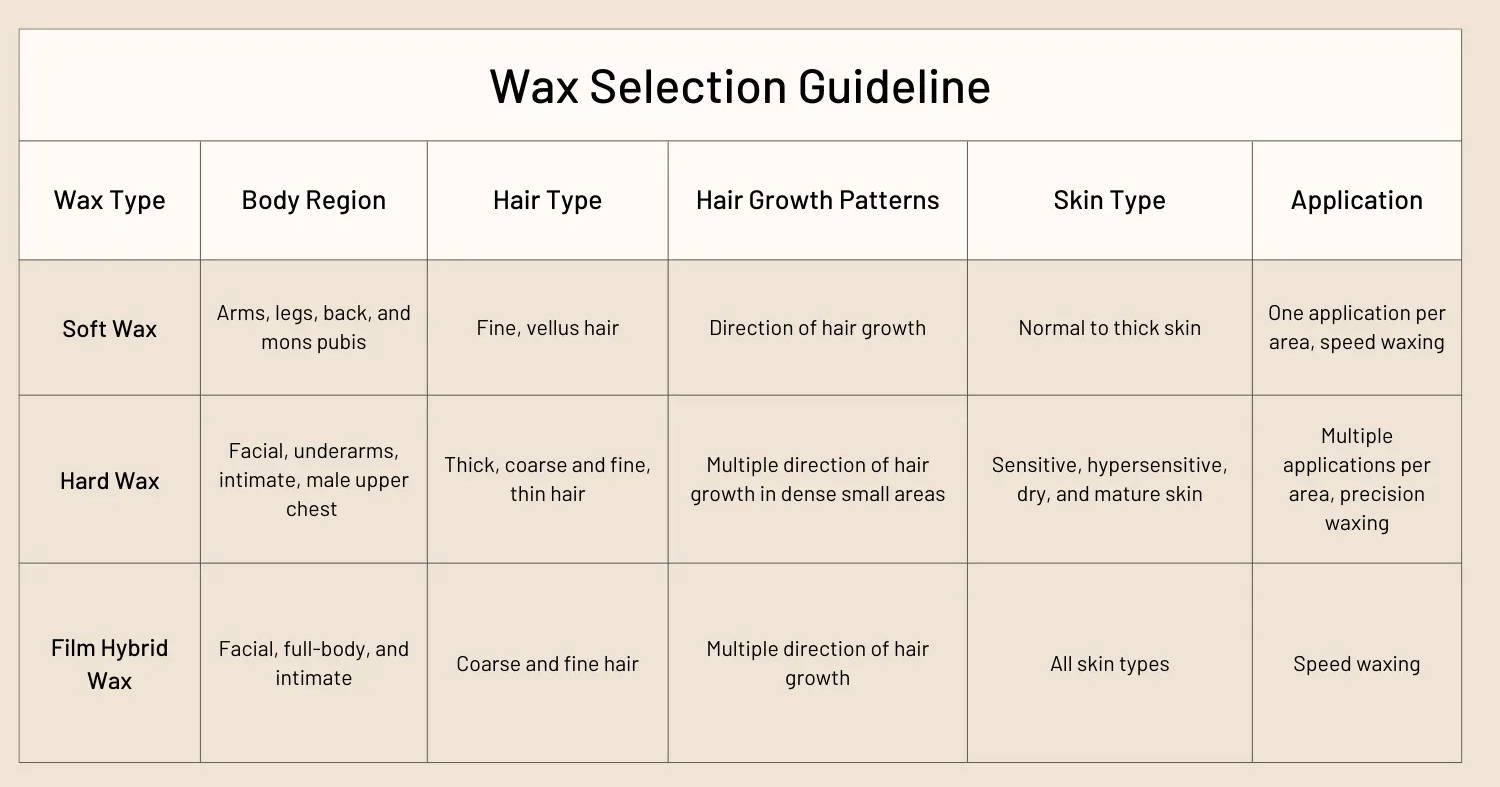 2.
Dependable and Durable Wax Warmer
        a.
The size of the wax warmer will depend on:
                    i.
Service volume
                    ii.
Space availability
                    iii.
Portable/mobile or Stationary
      b.
Number of basins
                  i.
Recommend at least 2 basins to accommodate hard and soft waxes
                  ii.
The number of wax varieties used daily will determine how many
basins are needed
      c.
Important features include:
                  i.
Quick touch
-
on
-
off switch
                  ii.
Multiple setting temperature control
                  iii.
Fast heating ele
ment that is well made and reliable
                  iv.
Cover to keep wax at a set temperature and for storage
                  v.
Ensure the pot can accommodate wax tins or the warmer has empty
tins to accommodate bead/block melting
3.
Wax Removal Strips for Soft Wax
      a.
Muslin Woven Waxing
Strips are the strongest and most durable waxing
strips that are manufactured from 100% cotton                                   because they are woven: most
expensive. Ideal for tough and coarse hair, work well on legs, eyebrows, upper
lip, chin, and face.                   Not advisable for sensitive area
s such as the bikini area,
arms, and underarms.
      b.
Pellon Non
-
Woven Waxing Strips are not as strong as muslin strips
because they are laid rather than woven and tend to be a bit                   stiffer making
them more challenging to form to some of the body's contours. Mos
t popular
choice because they are less                                 expensive to muslin strips.
4.
Pre
-
Care Products to Support Wax Application and Removal
      a.
Cleanser with antiseptic to prevent bacteria from entering follicles.
      b.
Wax oil to create thin barrier to protect the skin during waxing treatment
and has calming ingredients to soothe the skin.
5.
Post
-
Care to Care for the Health of the Skin and Hair
      a.
Finishing oil to remove wax residue and hydrate the skin.
      b.
Hair serum to draw out ingrown hairs.
      c.
Wax cleaner to remove wax from equipment and surfaces.
6.
Retail / Homecare is important to have both high
-
quality professional products
and retail products for your clients to integrate into their daily regimes to get b
oth
continued benefits and outcomes.
    a.
Hair serum to help slow hair regrowth, prevent and treat ingrown hairs.
Manufacturer Details to Consider
While the features above can certainly help you narrow down your options, don't forget to investigate the brand itself, not just its product offerings. Look for a company that's been in business for a while. The brand's reputation will become linked with your own, so make sure it's a good one. Here are a few questions to consider:
• Does the manufacturer's brand align with your ideals?
• How long has the company been in business?
• What resources does the manufacturer offer spa partners? While loyalty programs are great, a reputable company will go above and beyond to support its spa partners.
• Do they offer professional development resources and training to make sure practitioners are equipped to deliver high-quality results?
• Does the manufacturer provide ready-made marketing assets to support the brand?
• Does the manufacturer provide treatment protocols to support the service menu integration?
---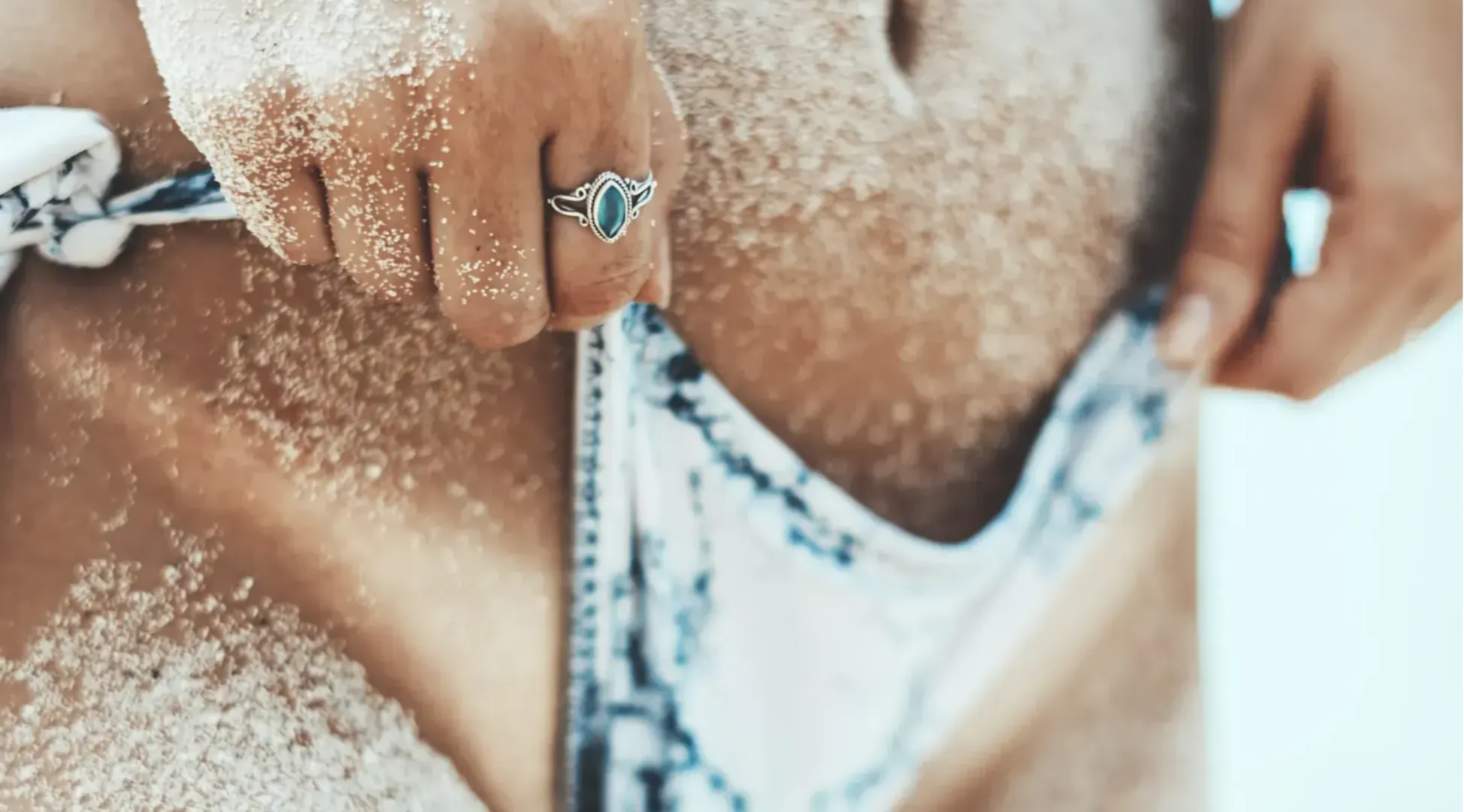 Advances Brazilian Bikini & Bum Waxing Zone Method Training & Certificate
Earn 6 CEUs with this guide to the techniques, marketing, and business of bikini, Brazilian, and bum waxing using the Waxing Zone Method.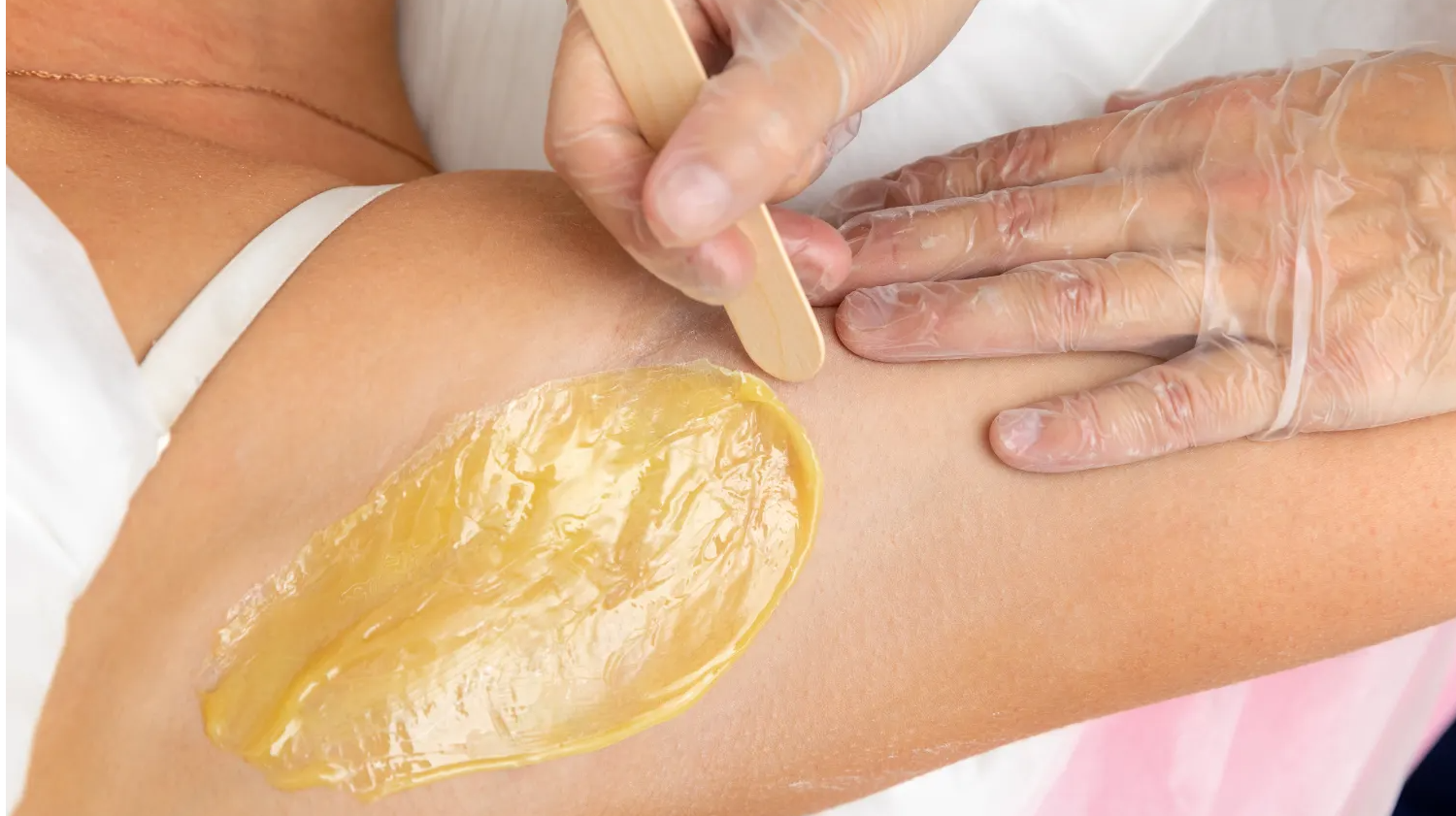 Advanced Speed Body Waxing Zone Method Training & Certificate
Earn 6 CEUs with this guide to the techniques, marketing, and business of speed body waxing integrated with the Waxing Zone Method.
---
About Lori Vargas, MBA (she, her, hers)
Lori Vargas, founder of 360 Wellness Education, has over 20 years in the spa industry as a founder of multiple spas, a massage school, and as a spa consultant. She also has 14 years of experience guiding Fortune 500 Companies with corporate strategies and business development. Lori holds a CPA and MBA from the University of Chicago.

To complement her online 360 Wellness Education courses, Lori has created an educational community focused on connections and growth through 360 Wellness Education CORE Membership. This membership provides easy access to affordable on-demand advanced education, live webinars (sip & learn style), Facebook private group, newsletters, and live events. Follow on Instagram at @360WellnessEducation .

In addition to CORE Membership and her other online courses, Lori offers 360 Business Workshops. This live webinar series focuses on business start-up and development, sharing valuable insight, advice, and templates to jumpstart business growth and maximize success.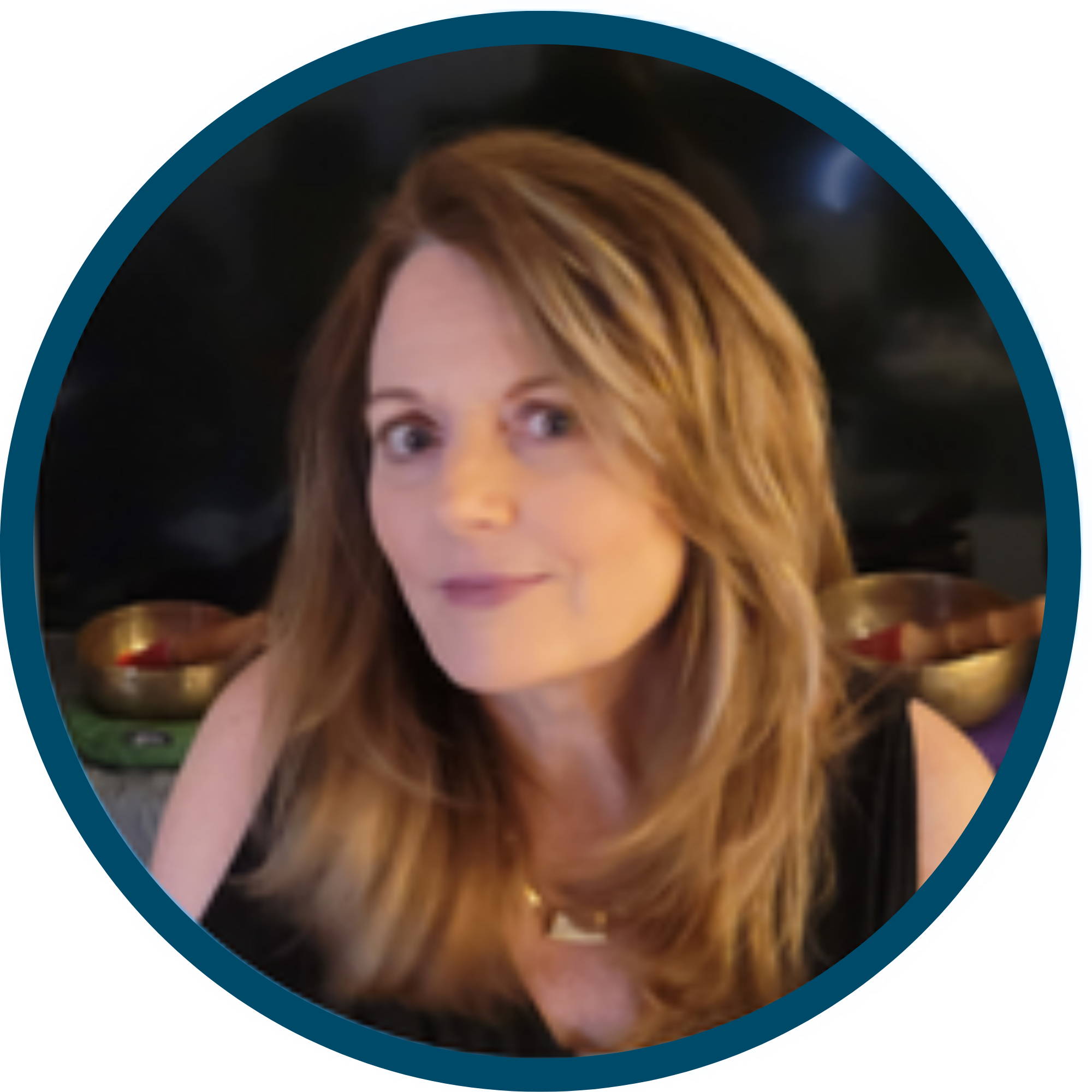 ---
Universal Companies is proud to have a team of experienced spa advisors on staff and welcomes you to consult with our professionals about spa products and supplies, including ingredients, equipment, and retail. Dedicated to the success of spa professionals everywhere, we're grateful to be recognized with the American Spa Magazine Professional's Choice Award, Favorite Distributor of the Year for many consecutive years. (Thank you!)
---