What Your Spa or Salon Needs to Know About Face Masks

May 19 • Wellness & Sustainability
As the US begins to reopen, it's essential to protect yourself, your staff, and your customers. In addition to implementing social distancing measures and more stringent disinfection protocols, you will want to require that both staff and customers wear face masks to mitigate risk. There are several types of masks available, but you may be unsure what the differences are between them. To offer some basic information as you stock up on PPE supplies, we'll touch on two categories: reusable masks and medical masks.
3 Different Types of Face Masks

The chart below shows which face masks are appropriate in various settings: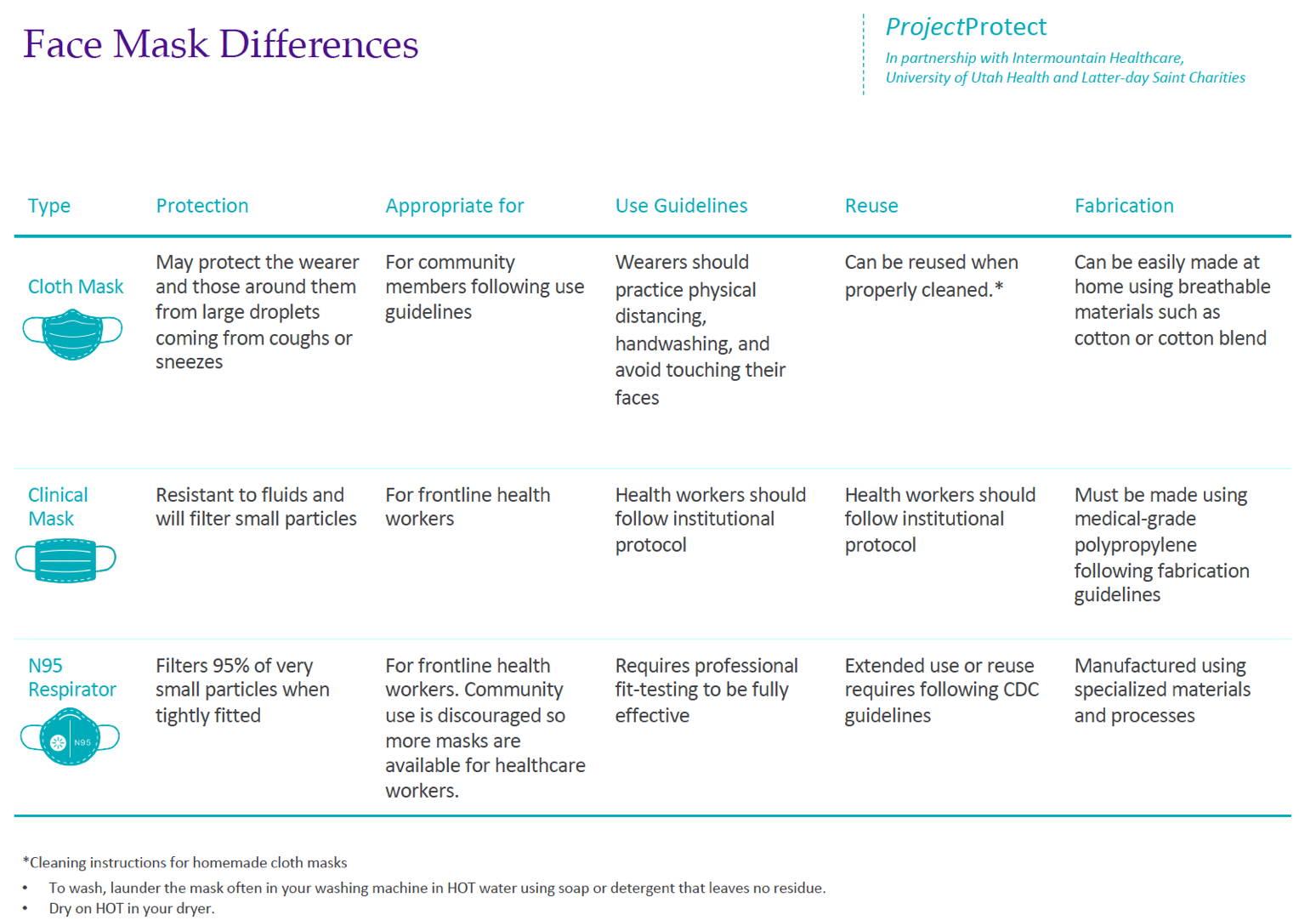 ---
Reusable Cloth Face Masks
For the general population, the CDC recommends the use of cloth face masks when going out in public. Reusable cloth masks can be worn by both your staff and customers to help prevent the spread of COVID-19 within your business while also keeping the environment in mind. (Since the start of the pandemic, researchers have found that disposable PPE items have been a major culprit in environmental pollution.)  
As a plus, making fashionable reusable masks available for purchase is a great option for customers who forgot their face mask or haven't had access to them. It's also excellent for driving revenue and protecting your community at large.
While reusable masks should suffice in preventing the spread of COVID-19, you may have a limited budget and a large staff to supply. In those cases, you may want to consider disposable surgical masks.  
---
N95 & Disposable Clinical Face Masks

Note that while N95 face masks are the most effective mask in preventing the spread of pathogens like coronavirus, they are also much harder to come by and should be reserved for our frontline healthcare workers. According to the CDC, N95 masks are not necessary for the general public and in non-healthcare settings.
While browsing face masks for your spa or salon business, you may come across disposable medical grade surgical or clinical masks with filtration performance ratings such as "BFE" or "PFE." These masks must be cleared by the FDA. To get clearance, they must be tested by ASTM (American Society for Testing and Materials), which is endorsed and referenced by the FDA. ASTM tests for a variety of things, including BFE and PFE:


Bacterial Filtration Efficiency (BFE)

measures the filtration efficiency of masks using live bacteria (viable particles) that vary in size from 1 to 5 microns.

Particle Filtration Efficiency (PFE) measures the filtration efficiency of a mask using non-living, or non-viable particles that are fixed in size from 0.1 micron to 1 micron.


A mask with an ASTM 1 rating means that it offers low barrier protection for low-risk, nonsurgical procedures that do not involve aerosols, sprays, and/or fluids. ATSM 1 masks filter out greater than or equal to 95% of bacteria as well as 95% of non-living, non-viable particles (viruses, dust, etc.) that are 0.1 microns in size.
For non-medical grade masks, manufacturers may certify that they meet Level 1.  
Disposable surgical masks should be considered when deciding which masks are best for your business. They may also be handy and offer more protection to your clients for treatments (like during facials and/or massage) where closer contact is inevitable.
---
Universal Companies is proud to have a team of experienced spa advisors on staff and welcomes you to consult with our professionals about spa products and supplies, including ingredients, equipment, and retail. Dedicated to the success of spa professionals everywhere, we're grateful to be recognized with the American Spa Magazine Professional's Choice Award, Favorite Distributor of the Year for many consecutive years. (Thank you!)