Focused Homeopathic Blends for Mind & Body
Focused Homeopathic Blends for Mind & Body
Holistic Hydrotherapy & Body Care Treatments
Founded in Germany by Sebastian Kneipp, a pioneer in naturopathy and hydrotherapy, this lifestyle brand combines treatments, home care, and wellness concepts. For more than 130 years, Kneipp has promoted prevention through healthy living.
What you'll find on this page:
Take advantage of these special limited time offers while supplies last!
Purchase this promotion and receive 192 assorted mineral bath salt sachets for FREE ($480 value) and generate $1,920 in retail sales.
Purchase this promotion and receive 192 assorted mineral bath salt sachets for FREE ($480 value) and generate $1,920 in retail sales.
In addition to the healing power of water and the effects of medicinal herbs, Sebastian Kneipp's lifelong naturopathic studies included other factors. He developed a holistic approach to optimum health through a 5-Pillar Philosophy. With a focus on mindfulness and living in harmony with nature, these fundamental principles are water, plants, exercise, nutrition, and balance.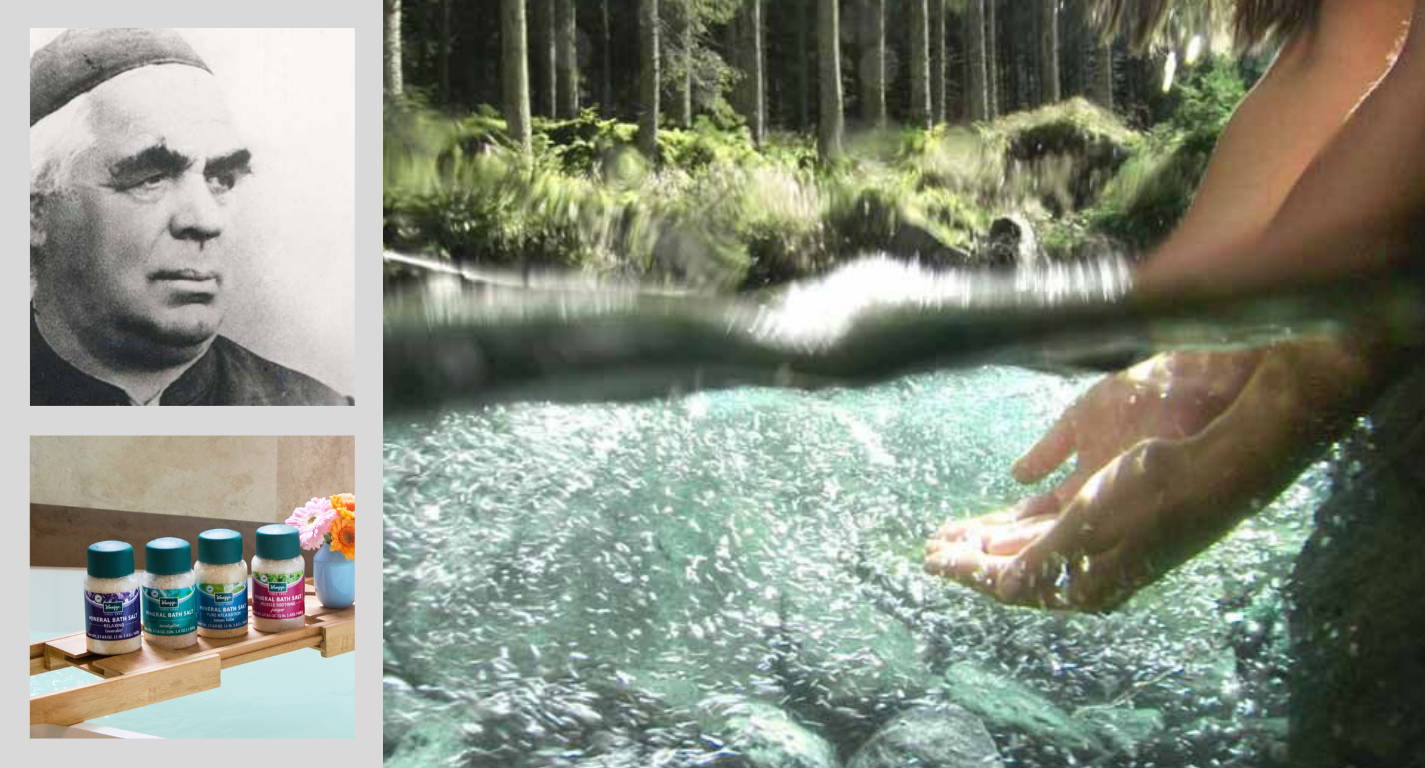 The 5 Pillars of Sebastian Kneipp
Arnica Joint & Muscle Relief
Used for centuries to comfort muscles and joints, arnica extract is a great choice for post-workout routines and recovery days.
A blend of pine, rosemary, arnica, and mineral salt offers a simultaneously warming and cooling effect.
Made with arnica extract, menthol, and Mountain Pine essential oil, this gel delivers cooling comfort.
This lush emollient warms and offers a restorative feeling when applied to sore muscles and joints.
This quick, refreshing gel delivers an energizing feeling to tired legs and feet.
The perfect solution to soothe overworked muscles, this oil helps guests relax and recover.
A revitalizing blend of arnica, cabreuva, rosemary, and pine to help skin maintain its moisture level.
Guests can achieve silky-smooth skin with this assortment of moisturizers, exfoliants, and elegant gift sets.
This unique mingling safflower, olive, sunflower, and grapefruit oils provides nourishment to mature, dry, or stressed skin.
This fast-absorbing blend softens skin and relaxes the mind with the floral aroma of lavender.
Created for sensitive skin, this lovely oil helps protect skin from moisture loss.
Don't keep this gorgeous fusion of oils a secret! Argan oil makes skin feel supple while marula oil nourishes and strengthens the skin barrier.
Body Scrubs, Lotions, & Massage Oil
A base of arnica and ginger to soothes tired, overworked muscles.
Sugar infused with argan and marula oils condition and moisturize the skin, leaving a youthful glow.
This moisturizer intermingles the dreamy aroma of lavender essential oil with nourishing plant oils.
This deeply moisturizing butter contains a luscious blend of calendula extract, shea butter, urea, and rosemary essential oil to soothe and smooth cracked, calloused feet.
Jojoba and calendula oils replenish lipids while citrus and rosemary oils refresh and deodorize feet.
Get Started with Opening Orders
Purchase $2,000 in Kneipp products and receive 20,000 Good Karma points ($200 value) to use on future orders! Connect with a product specialist to build an opening order that's best for your business.
Contact us for more information on opening orders & bringing Kneipp into your spa:
Training, Education, & Protocols
Your team members can learn at their own pace with on-demand training and education!
Free Staff Training & Certification
Service Inspirations & Protocols
Browse the most popular services incorporating Kneipp. Each service inspiration and protocol provides details on how to perform the service, plus cost per treatment and suggested price.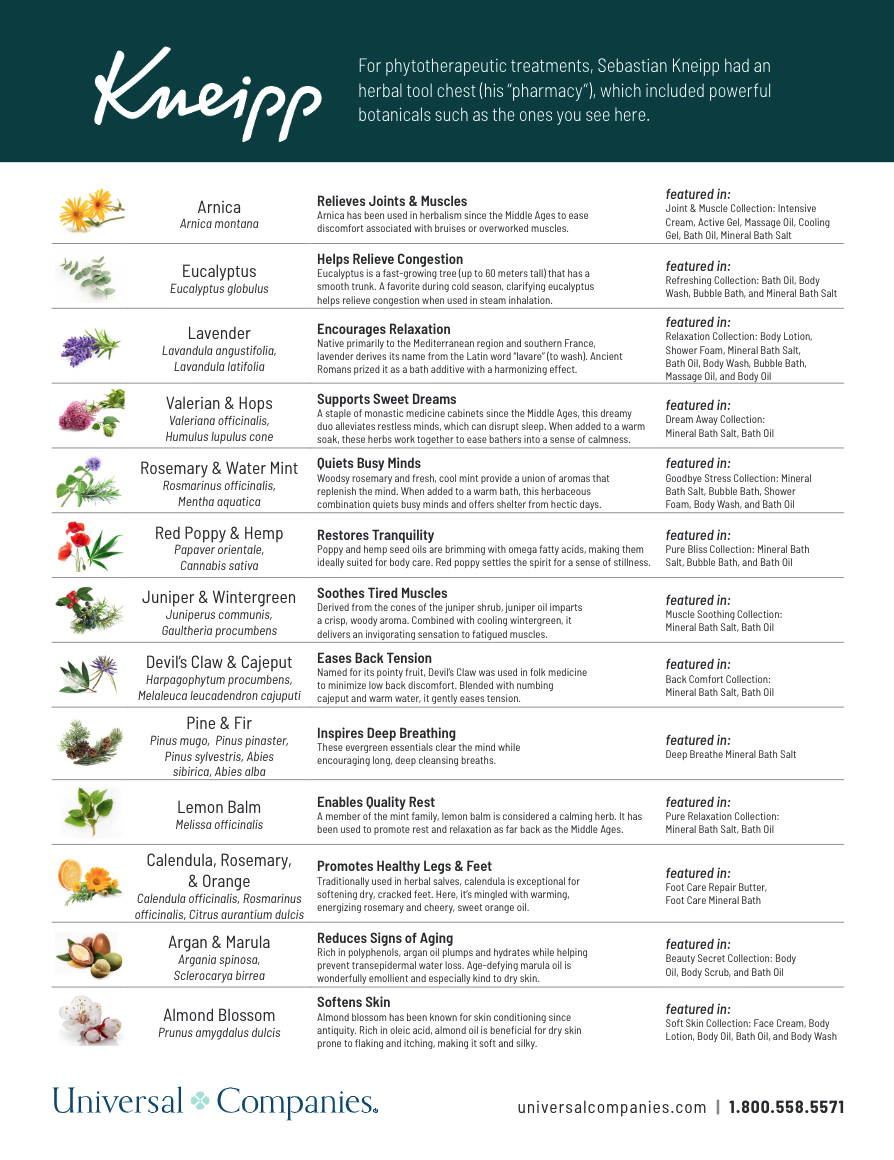 For phytotherapeutic treatments, Sebastian Kneipp had an herbal tool chest (his "pharmacy"), which included powerful botanicals.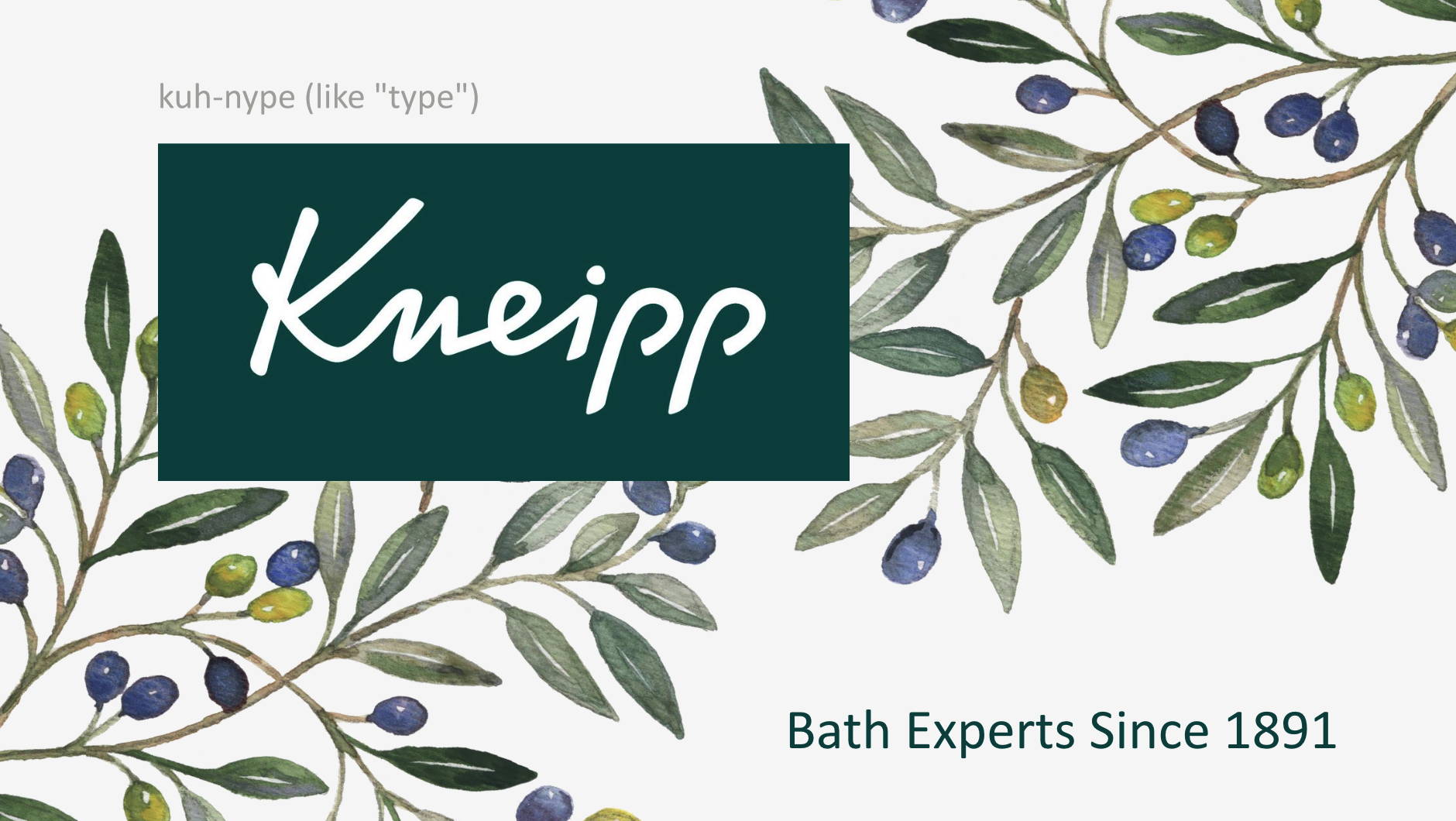 This guide provides instructions, tips and other supplemental information.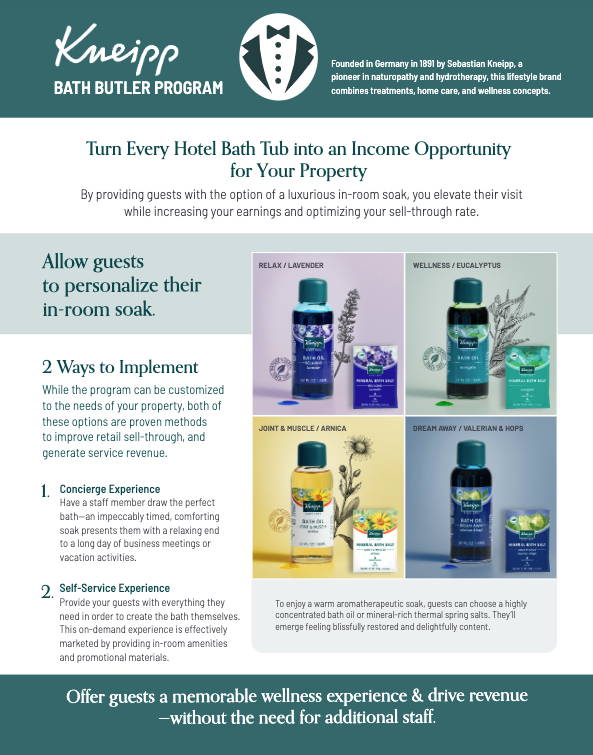 Kneipp Bath Butler Program
By providing guests with the option of a luxurious in-room soak, you elevate their visit while increasing your earnings and optimizing your sell-through rate.
Printable Marketing Resources
Capture your clients' attention by beautifully displaying your Kneipp products and promotions.  
Choose your graphic, personalize it, and print it.
Free Digital Marketing Resources
Engage customers on social media with pre-made posts that advertise your promotions.