Remarkably Smooth, Radiant Skin in Just 3 Steps!
1. CLEANSE
Unclog and gently cleanse pores, aqua-foliate dead skin cells, and extract sebum and blackheads
2. INFUSE
Saturate skin with restorative solutions by smoothly gliding the treatment tip.
3. CLOSE PORES
Close pores and promote firming with cryotherapy handpiece surrounded by blue LED lights.
In one 15-minute session, AquaBoost hydrodermabrasion deeply cleanses, extracts impurities, and then infuses the skin with nourishing serums.
This non-invasive, hydrating treatment offers the benefits of microdermabrasion without downtime or irritation.
Immediately after an AquaBoost treatment, your clients apply makeup and attend a special event or enjoy an evening with friends.
Consumer demand for hydradermabrasion has risen 962.5% within 5 years.
Consumers are clamoring to find hydradermabrasion treatments locally. Searches for "Hydradermabrasion near me" have drastically increased over the past 5 years and show no signs of waning.
Because it offers instant gratification and customization, hydradermabrasion is sought after by clients of nearly all ages and skin care concerns. It's great for acne, hyperpigmentation, wrinkles, and more. Sessions last 15 minutes, and you can charge anywhere from $90 to $150.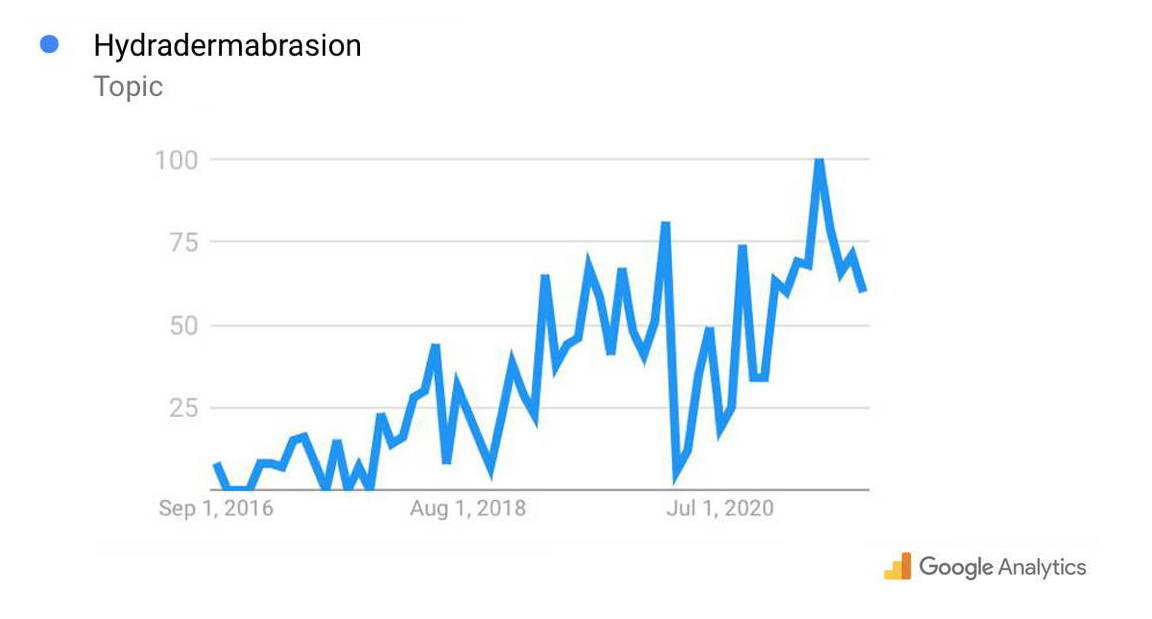 6 Reasons Why You'll Love AquaBoost
1. You'll get a relatively quick ROI, compared to more expensive units.

2. Its patented dome-shaped treatment tip is very gentle on the skin.

3. It has a unique cryotherapy function, which is unavailable on other machines.

4. It offers deep cleansing, plus lymphatic drainage.

5. Treatments can be done more often than microdermabrasion.
6. Extractions can be achieved without reddening or irritation.
Description
AquaBoost combines powerful vacuum technology and adjustable liquid infusion for superior hydration results.
Its adjustable 2-step vacuum massage allows deep cleansing to unclog and gently cleanse pores, aqua-foliate dead skin cells, and extract keratin, sebum, blackheads, or other impurities. Simultaneously, the hydrolyzed patented dome treatment tip smoothly glides across the skin, dispersing and infusing Prosana AquaBoost Serums. Lastly, the special cryotherapy handpiece, which is surrounded by blue LED lights, closes pores and promotes firm, glowing skin.
This premium hydrodermabrasion system is lightweight, quiet, and precise for comfortable facial profile.
Benefits
• Painless. No downtime. No discomfort.
• Instantly reduces the appearance of hyperpigmentation, congested pores, and uneven skin tone.
• Deep cleanses, exfoliates, extracts, hydrates, oxygenates, and microcirculates all in one session.
• 15-minute treatment time.

Specifications
•Dimensions: 13.8" W x 7.9" D x 12.6" H
•Warranty: 1 Year Limited