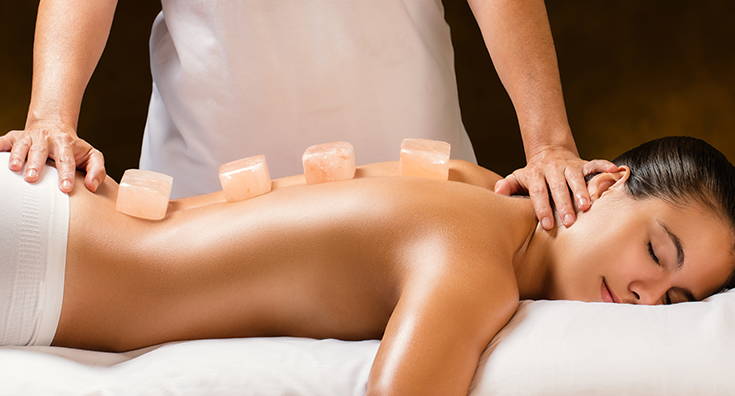 5 Spa Therapies Worth Their Salt
You've probably heard about the increasing popularity of salt in spa treatments, but salt therapy isn't new. Said to be beneficial for respiratory and skin conditions, salt inhalation therapy dates back to the 1100s, when people flocked to the natural salt caves of Eastern Europe to cure their ailments. Polish doctor Dr. Feliks Boczkowski was the first to study the medicinal properties of salt in the 1840s. He noted that, while coal miners were plagued with respiratory problems, salt miners had pristine lungs and no health complaints.
The current resurgence of salt therapy in spas is due largely to a focus on wellness and maintaining a healthy lifestyle. From salt chambers to salt baths and scrubs, these therapies are versatile, year-round treatment options that make it easy to work wellness into your practice. Here are 5 easy ways to add salt therapy to your spa menu and retail area.
Salt baths, used since the era of the ancient Romans, are also prized for their therapeutic qualities. You can recreate this treatment in your practice by incorporating bulk salt into warm baths for a detoxifying soak. Dead Sea Salt, Great Salt Lake Salt, and Kneipp bath salts work well for hydrotherapy.
Adding Himalayan salt stones to a full-body massage gives clients additional heat and allows the organic trace minerals from the salt to penetrate into the skin and body. A Salt Facial Massage Stone Set offers the therapeutic properties of salt for your facial services. You can also use larger salt stones in place of hot stones in massage treatments. If you haven't tried salt stone techniques, UCo Learning Network offers a great online CEU course–Himalayan Salt Stone Massage Training & Certificate. You can learn at your own pace!
Soothing Touch® Green Tea Mint Salt Scrub is ideal for exfoliation before body wraps or massage. This blend contains mineral rich Dead Sea salt, six skin-moisturizing oils, vitamin E, essential oils, and an herbal infusion to exfoliate and moisturize the skin, leaving it soft and radiant.
Skin feels restored to radiance after a treatment with Biotone® Exfoli-Sea Salt Scrub. This exfoliating salt scrub's triple-layer formula contains therapeutic Dead Sea salts in three crystal sizes to gently and effectively awaken circulation while removing accumulated residues and impurities.

Cuccio™ Pedicure Sea Salt Exfoliate for feet and body polishes skin to perfection with medium grit and the extravagant scent of pomegranate and fig.
This increasingly popular dry salt therapy requires a halogenerator to disperse a precise dry salt aerosol into a salt room or chamber at a much higher concentration than naturally occurs in salt caves.
Spas can capitalize on this trend by turning existing relaxation areas, steam rooms, or saunas into salt therapy rooms. A room as small as 80 square feet can be used as a salt VIP room or massage room, whereas a large 500 square foot space can be used for relaxation or as a yoga room. It's a smart way to generate extra revenue in space that might otherwise be vacant. A salt room is also a useful recovery tactic to avoid keeping guests waiting if you're running behind schedule. Salt rooms don't require any additional staff or special licensing and can range in price from $8,000 to $80,000, depending on the size of the space and how elaborate it is.
If you don't have a large budget, portable halogenerators are available. For small underutilized rooms, the Halo FX Mobile allows you to add halotherapy to your other wellness services or as a standalone treatment. An even more compact system, the Halo Pocket Hand Held Halotherapy can be used for opening and closing rituals or as a value-added amenity. For clients who'd benefit from lunch hour respiratory and joint care, low-temp IR heat with salt therapy is a wonderfully therapeutic option and doesn't require a shower afterward.
The therapeutic benefits of salt will naturally extend from the treatment room into your retail space, where their versatility will appeal to clients year-round. The Salt Dome Diffuser Lamp can serve as both a salt lamp and an aromatherapy diffuser. One-of-a-kind and absolutely beautiful, the Natural Salt Lamp is hand-shaped from select chunks of the finest, most potent salt crystal in the world. For self-care, warm herbal salt baths from Kneipp are also a popular retail choice.
Whether you choose to add salt to your spa menu as a unique treatment or as a service enhancement, you can be sure your clients will enjoy the extra benefits, and you'll appreciate the boost in revenue. If you're already using salt therapy in your spa, share your experience with us using #UCSalt on Facebook, Twitter, or Instagram.
---
Universal Companies is proud to have a team of experienced spa advisors on staff and welcomes you to consult with our professionals about spa products and supplies, including ingredients, equipment, and retail. Dedicated to the success of spa professionals everywhere, we're grateful to be recognized with the American Spa Magazine Professional's Choice Award, Favorite Distributor of the Year for many consecutive years. (Thank you!)