Optimize Local Web Searches for Mobile Spa Services
Did you know that mobile spa services are currently on the rise? With increased consumer demand for in-home massages and mobile spa experiences, clients are willing to pay premium prices in exchange for the flexibility of time and location choice to enjoy quality, professional treatments.
According to keyword research, while in-office and corporate massages have remained stable for the last decade, in-home massage terms have become more popular over time. Many of the keywords that are associated with mobile services and practices are trending upward, with "mobile massage" coming out on top.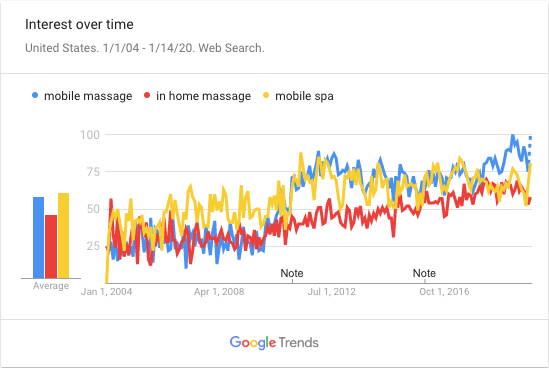 But just providing these services isn't enough to take full advantage of this growth, which is why we've gathered some data-based information that can help IPs either build on their existing offerings or jumpstart their small business.
Developing a Web Presence That Works for You
In our modern, technological wonderland, utilization of the Internet has become one of the most important aspects of any small business. If you're not representing yourself in the right ways online, your existing clients can have trouble keeping up with your services and, even worse, you can be virtually nonexistent for potential customers.
For professionals that run their own mobile business, the web almost functions as their front-of-house or reception area. These businesses don't have the benefit of a centralized location or walk-ins. Cultivating a worthwhile web presence is a crucial step in making your business succeed.
Day Spas or Corporate Spas
Solo Professionals or Students
Day Spas or Corporate Spas
Mobile services are a great way to extend your client reach and boost revenue. Offering mobile services alongside your current offerings with can be a great way to offer services to
1. Ensure that your site is mobile-friendly.
Before we get started, it's imperative that you make sure that your website works well for both desktop users and mobile users. Most web traffic is done on mobile devices, so this is a market you cannot afford to lose. If you're not sure if your site is, you can use Google's Mobile-Friendly Test to find out.
If your site doesn't pass, you'll need to check with the platforms you're using to maintain the site or reach out to whatever web team / developer that you used to make the site.
2. Create a page that targets local consumers.
We've often sung our praises for "near me" pages, and we're not going to stop now. If you're unfamiliar with what a "near me" page is, just think of it as a landing zone for search traffic on your website. A good NM page has a clear and consistent structure that utilizes specific keywords to target local demographics. These keywords are easily found by search engines like Google, who will push local searchers straight to your site. Without these keywords, it can be hard for your site to compete.
Suggested structure:
Headline 1: Mobile Spa in [YOUR LOCATION]
Headline 2: At Home, At the Office, and More On-Demand Spa Services
URL: www.examplespa.com/mobile-spa-[your location]
Keywords:
mobile spa
full body massage at home
in home couples massage
in home manicure
in home manicure and pedicure service near me
mobile manicure
mobile manicure and pedicure
mobile manicure near me
Title Tag Example (Around 60 Characters):
Mobile Spa Services In-Home and In-Office in [YOUR LOCATION]
Meta Description Example (Around 155 Characters):
The best mobile spa in [YOUR LOCATION] with vetted spa and massage therapists willing to come to you. Offering a full range of professional spa services.
Even if you've got a web team that you work with, it may be worth reaching out to an experienced web developer for consultation on how your website can be better utilizing Search Engine Optimization (SEO). If you work on your own website, look into local classes on SEO or online tutorials. This is a vital step for making sure your website is found by new and existing clients, so make sure you're prepared.
3. Utilizing Google My Business.
If your business doesn't have a GMB account, you need to create one. If you're unsure of how to get started, contact us and we'll point you to the right resources and help you set one up correctly.
Without a GMB account, it's highly unlikely that your spa will show up as a local suggestion above search results. This "map pack" is where most local search traffic comes from.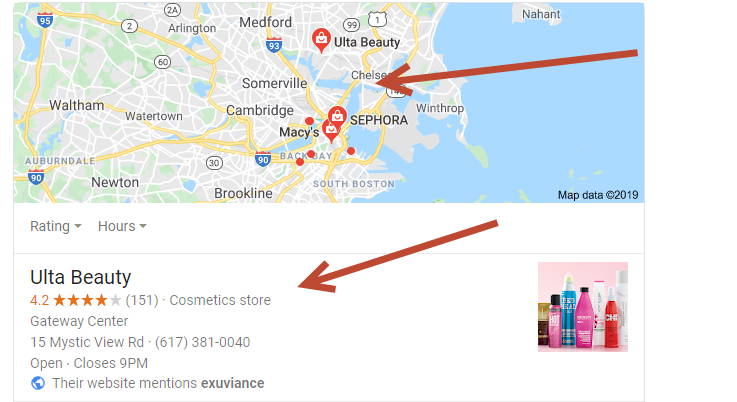 Once you've got a GMB account, select the categories that apply to your spa. It's important that you don't add categories that are non-relevant.
Examples could include:
Nail Salon

Massage Therapist

Massage Spa

Spa

Mobile Hairdresser

Sports Massage Therapist
4. Stay on track with email, social, and citation campaigns.
For small businesses, we all know that social media is key. But we have to make sure that we're using these platforms correctly when trying to reach our customer base.
Prominently including your mobile services in email, social media, and blogging efforts will kickstart traffic to your website from loyal customers, which will help your site rank higher on Google. If you don't currently have a newsletter, consider starting one to keep up client retention.
Citations help your website rank locally and can be viewed as getting yourself listed in as many "online phone books" as possible. To find out how your citations currently look, use tools like Moz to check. Citations, like SEO, can be a bit more complicated, so you might want to reach out to an experienced developer or team to help you run a citations campaign.
---
If you follow these steps, you'll definitely see a rise in consumer traffic to your site, which will inevitably lead to more calls and appointments. If you're looking to learn more, reach out to our experienced staff of licensed professionals who are eager to help you and your business succeed.
Massage Therapists & Estheticians
Earthlite Pro Endeavor Portable Table Package
The Pro Endeavor is a top-of-the-line portable table designed specifically to fulfill the needs of an evolving wellness career.
TouchAmerica Quicklite Massage Chair Package
Features a one-piece integrated design that can be adjusted without removing parts. Seat, armrest, chest pillow, and head support are fully adjustable.
bt-Sonic® Facial Cleansing Brush
Powerful and portable, this brush cleanses and exfoliates in as little as 2 minutes.
bt-Micro® Ultrasonic Exfoliation
Provides ultrasonic exfoliation by creating high speed oscillations, leaving skin smooth, fresh, and perfectly prepared for product application.
Manicurists & Pedicurists
Perfect for mobile pedicure services.
Eco-fin works as a luxurious hand and foot treatment that can easily be used out of the spa.
CloudWise Academy was founded in 2015 in Northern California as a way for individuals and companies to compete effectively in the midst of the digital revolution. Over the last several years, they've expanded to include a variety of courses to help you and your employees acquire in-demand skill sets—including design, search engine optimization (SEO), and marketing. CloudWise Academy also hosts the weekly podcast Being Found, which helps small business owners utilize the Internet to drive web and foot traffic.
---
Universal Companies is proud to have a team of experienced spa advisors on staff and welcomes you to consult with our professionals about spa products and supplies, including ingredients, equipment, and retail. Dedicated to the success of spa professionals everywhere, we're grateful to be recognized with the American Spa Magazine Professional's Choice Award, Favorite Distributor of the Year for many consecutive years. (Thank you!)