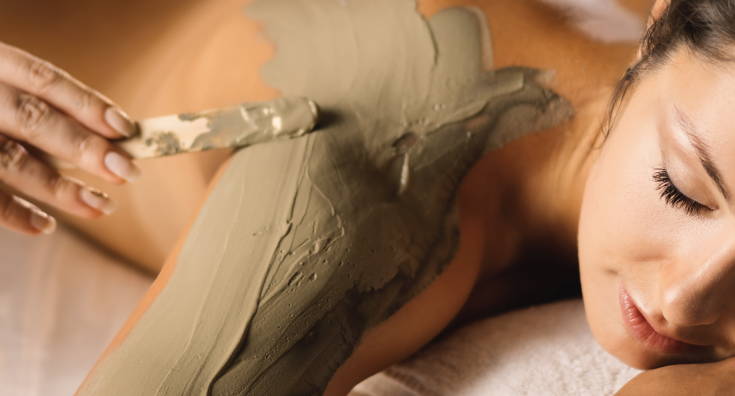 Down & Dirty: Your Guide to Clays, Muds, & Charcoal in Skin Care
It doesn't have to be summer to get down and dirty with the great outdoors. Clients are going to want skin that's worthy of showing off, and the very things that get us dirty outside, like dirt and mud, are perfect for skin care. Masks, whether facial or body, can be made from some of the dirtiest things, like clay, river mud, or charcoal.
But how do you know what's best for your client and their individual needs? With this trend continuing to grow, not knowing the ins and outs of these specialized treatments is, in essence, like watching money float down the river.
The Difference Between Clays & Muds
All clays are muds, but not all muds are clays. When it comes to what separates these two, here's a basic distinction: Clays are very beneficial for oily skin that is prone to breakouts. Muds, on the other hand, are better suited for dry skin, as they're very hydrating and contain a lot of minerals and plant enzymes that are beneficial to the skin.
Here's a breakdown of the benefits associated with the most popular dirty skin care ingredients and the different skin types and issues they can help.
Different Muds Offer Different Benefits
Moor Mud
Use moor mud for tender skin or muscle soreness—making it perfect for post-workout treatments. With virtually no clay, this mud contains over 1,000 plant enzymes, minerals, amino acids, and vitamins. Great for sensitive skin clients because it has natural revitalizing qualities that don't strip the skin. For algae-enriched moor services, offer a skin-balancing Algamoor body treatment.
PRO TIP: Before applying moor mud, lightly mist the skin with aloe vera for a full spectrum treatment!
Dead Sea Mud
This nourishing mud is rich in magnesium, sodium, potassium, and calcium, making it an excellent drawing and purifying mud. Dead Sea powdered mud, as well as wet mud, mixes well in masks, but also makes for a unique scrub experience when combined with salt.

DIY:

Mix 1 cup of fine Dead Sea salts, 4 tbsp powdered Dead Sea mud, 1 tbsp of green tea powder, and 10 drops of peppermint essential oil. Stir contents until blended evenly. Add ¼ cup of carrier oil of your choice, and stir until the scrub is evenly blended.  
Sedona Mud
Rich in iron, making it a reddish brown color, Sedona mud is great for body treatments and warm wraps, especially after dry brushing. Beneficial to most skin types because it cleanses without dehydrating the skin.
Play with These Clays for Endless Possibilities
White or Kaolin Clay
Also known as volcanic clay, this is the go-to clay for most treatments. White clay is soft and easy to blend with powdered herbs for themed masks or body wraps. Use to create cleansing grains or a dry, all-natural exfoliant.

DIY:

Mix 2 tbsp of kaolin clay with 5 drops of rose absolute and 1 tbsp of rosehip oil for a creamy rose facial mask.
Charcoal—The Dirtiest Cleaner
Charcoal may seem the furthest thing from a cleanser and exfoliator—it is solid black, after all—but right now this element is one of the biggest trends in skin care. Charcoal can serve as a gentle exfoliator, as well as a cleanser and alternative to using salicylic acid. Like clays, it makes great masks for oily, acneic skin because it draws moisture and dirt.
Using Muds, Clays, & Charcoal Masks in Treatments
With the popularity of these treatments and their DIY nature, offering something that a client can't get anywhere else might be a challenge. Here are a few unique touches you can add to clays and muds that can set you apart from something a potential or existing client read and tried to recreate from the internet:
Try adding essential or carrier oils to your muds and clays to enhance their benefits, like in the examples earlier.
Additionally, incorporating powdered herbs or whole herbs to muds enables you to deliver fully customized treatments that utilize your expertise.
Removing these masks isn't always easy either, as evidenced by some painful YouTube videos. Mixing 1 tbsp of dry mud to 2 fl. oz. of massage cream will make a creamy body mask that's easily removed with a warm towel. Similarly, mixing mud with warm carrier oil will create a warming, creamy consistency that glides on, and with the help of the beneficial carrier oils, boost the benefits of the treatment. The carrier oil mask is also easily removed.
So there you have it, insight on how to stay on trend and set your mask treatments apart from the DIY masks all over the internet. Show us how you get down and dirty with muds, clays, and charcoal and share it with us on Facebook, Instagram, Twitter, and Pinterest using the hashtag, #UCSkinCare!
---
Universal Companies is proud to have a team of experienced spa advisors on staff and welcomes you to consult with our professionals about spa products and supplies, including ingredients, equipment, and retail. Dedicated to the success of spa professionals everywhere, we're grateful to be recognized with the American Spa Magazine Professional's Choice Award, Favorite Distributor of the Year for many consecutive years. (Thank you!)