4 Trending Skin Care Acids
When looking to expand your existing skin care treatments, it's essential that you consider popular ingredients to make sure that your spa is on trend. Skin care ingredients are steadily evolving along with research, which means that there's constantly new information that impacts how we provide services to our clients.
We've done some research on trending acids and thought you'd like to see what we found.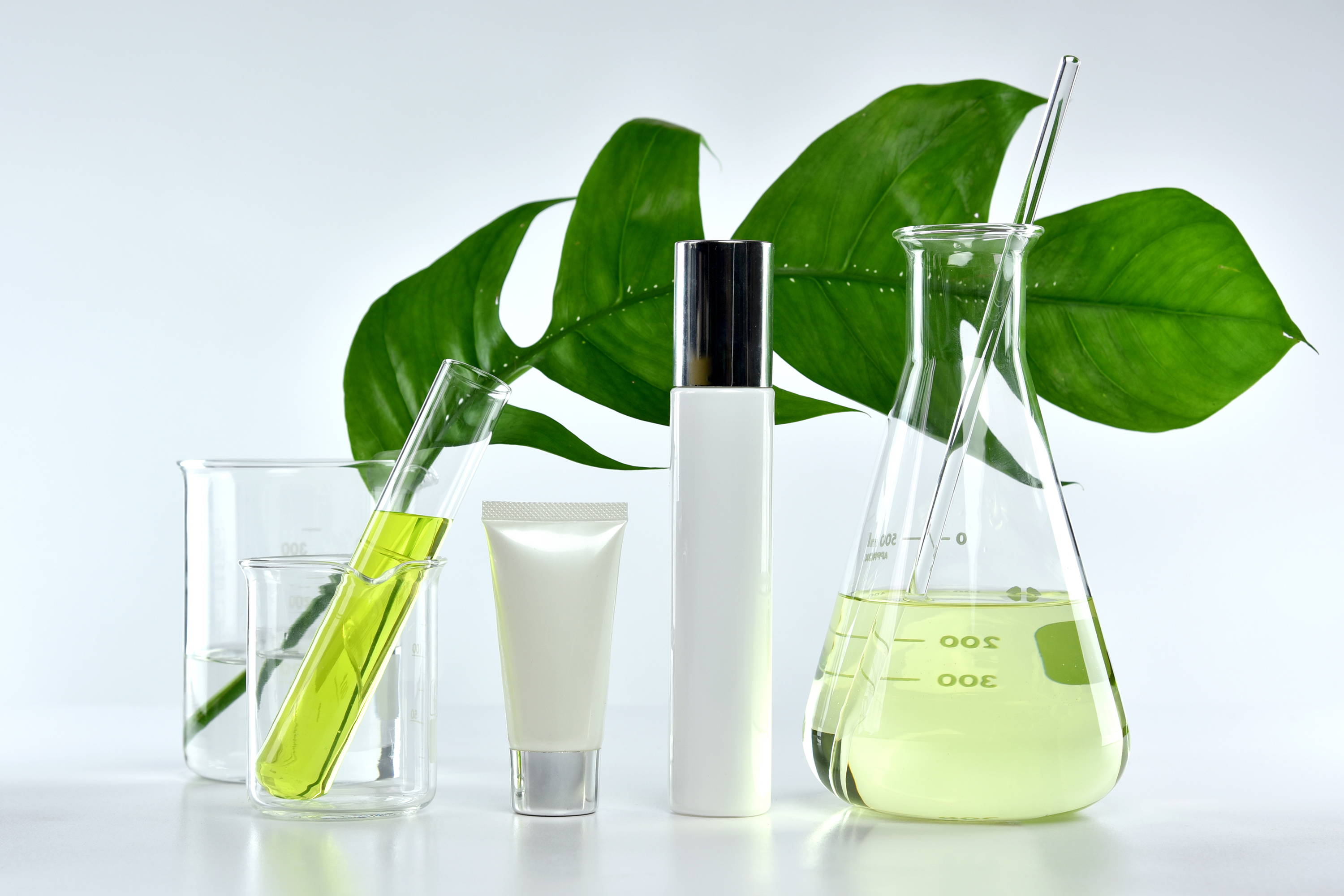 1. Hyaluronic Acid
While hyaluronic acid has always been a skin care mainstay, its popularity is growing at an exponential rate. Between 2014 and 2019, increase in consumer interest in hyaluronic acid grew 111%!
Hyaluronic acid acts as a surface volumizing agent to attract moisture, diminishing the appearance of fine lines and wrinkles, thus intensely hydrating the skin. Hyaluronic acid is extremely useful for retaining moisture, which makes it a perfect ingredient in anti-aging treatments and home care.
As your clients grow older, their natural production of hyaluronic acid diminishes, so offering products that stimulate and nurture the skin is imperative to bringing back a youthful glow.
Recommendations:
2. Retinol (Retinoic Acid)
Retinoids have a more complex journey in the history of skin care, but they're still a tremendously popular ingredient choice for clients. In fact, retinol's popularity grows year over year. Over the last five years, consumer interest increased 257%.
Like hyaluronic acid, retinoic acid is most commonly used in age-defying services and retail. It targets uneven skin pigmentation in addition to fine lines and wrinkles, firming the skin for a younger appearance.
While consumer interest is up, your clients may have more questions about retinoic acid than many of the other active ingredients. Retinoids work to reduce the look of fine lines and wrinkles by stimulating the production of collagen in the skin. They're also beneficial for hyperpigmentation, due to their encouragement of blood vessel production, which improves skin color. There are a variety of retinoids that are used in skin care, and some of them carry more negative side effects than others (such as tretinoin or tazarotene).
However, research into retinoids has continued to open up new avenues for stability and efficacy, which is why retinol has become so popular. Retinol is a much more tolerable acid that is much less irritating for the skin. Make sure your clients are educated about retinoids before offering them as part of a service or retail product.
Recommendations: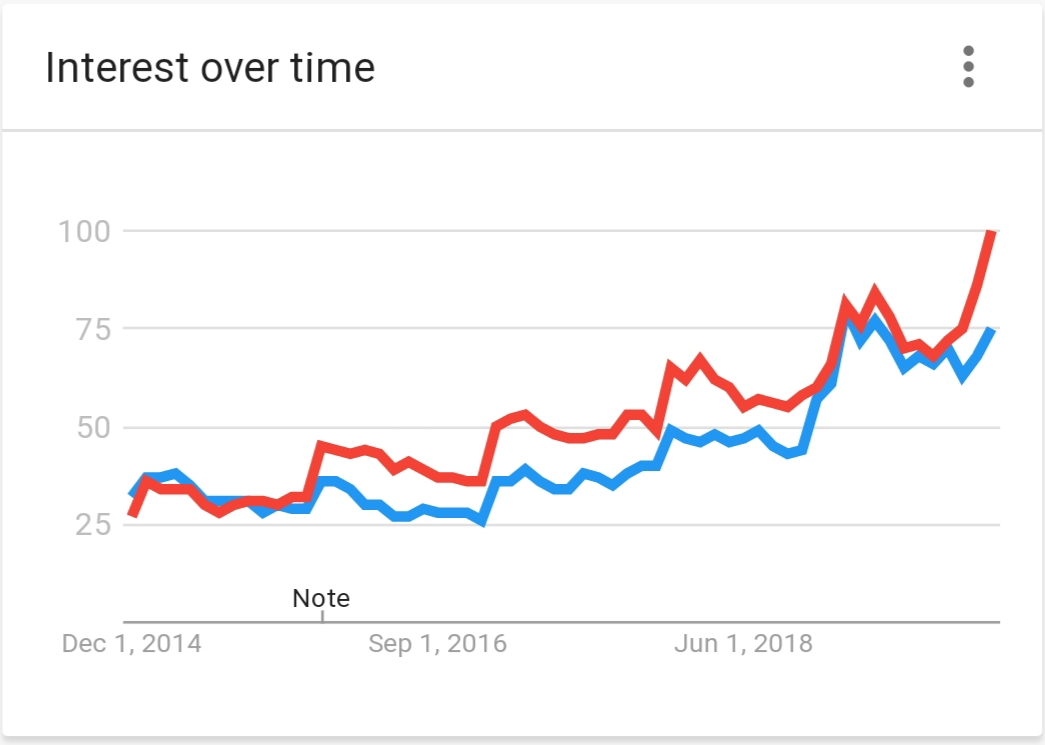 Figure: The Google search term "hyaluronic" is in blue; "retinol" is in red.
3. Glycolic Acid
Glycolic acid is a versatile ingredient that's derived from sugar cane. According to Google Trends, consumer interest in glycolic acid has increased 92% between 2014 and 2019.
It's the smallest and most popular alpha hydroxy acid (AHA), known for its ability to easily break through to the dermis layer of the skin. Because of this, glycolic acid provides an impressive, even exfoliation that improves the look of skin, unblocks pores, and smooths the appearance of fine lines and wrinkles. However, it can cause sun sensitivity, so it's always recommended that you offer a sunscreen alongside any glycolic acid-infused service.
Recommendations:
4. Salicylic Acid
Unlike hyaluronic acid and retinol, salicylic acid is more often used in services that target acneic skin. Over the last several years, consumer interest in salicylic acid has risen 89%.
Derived from willow bark, salicylic acid is more oil-soluble, which makes it better for penetrating pores. This is why it's such a helpful ingredient for troubled, blemish-prone skin.
Recommended products:
Now that we've learned the benefits of these acids, it's the perfect time to consider another growing trend in the industry: bespoke skin care.
According to market research, the beauty industry is shifting to accommodate customizable skin care brands. These bespoke skin care products can help you cater to each individual client's needs and skin concerns.
For example, Moor Spa and Control Corrective offers a wide range of skin care products—serums, cleansers, peels, and more—that can be customized to fit any client's specific skin type. Moor Spa is pre-loaded into our Skin Health Analysis System, which makes it easier than ever to study your client's skin and immediately recommend products that will benefit their unique skin type.
By carrying a consistent yet varied line of skin care products, you'll always be ready for any client that walks through your door.
---
Universal Companies is proud to have a team of experienced spa advisors on staff and welcomes you to consult with our professionals about spa products and supplies, including ingredients, equipment, and retail. Dedicated to the success of spa professionals everywhere, we're grateful to be recognized with the American Spa Magazine Professional's Choice Award, Favorite Distributor of the Year for many consecutive years. (Thank you!)