Learn About AquaBoost Serums: Hydradermabrasion

If you're a spa owner or skincare professional, you're likely on a constant quest for the most effective treatments for your clients. AquaBoost's Hydradermabrasion system has become a staple in top spas, and the serums that accompany this technology are equally groundbreaking.
Let's delve into the science and benefits of these serums to understand how they can enhance your skincare offerings

.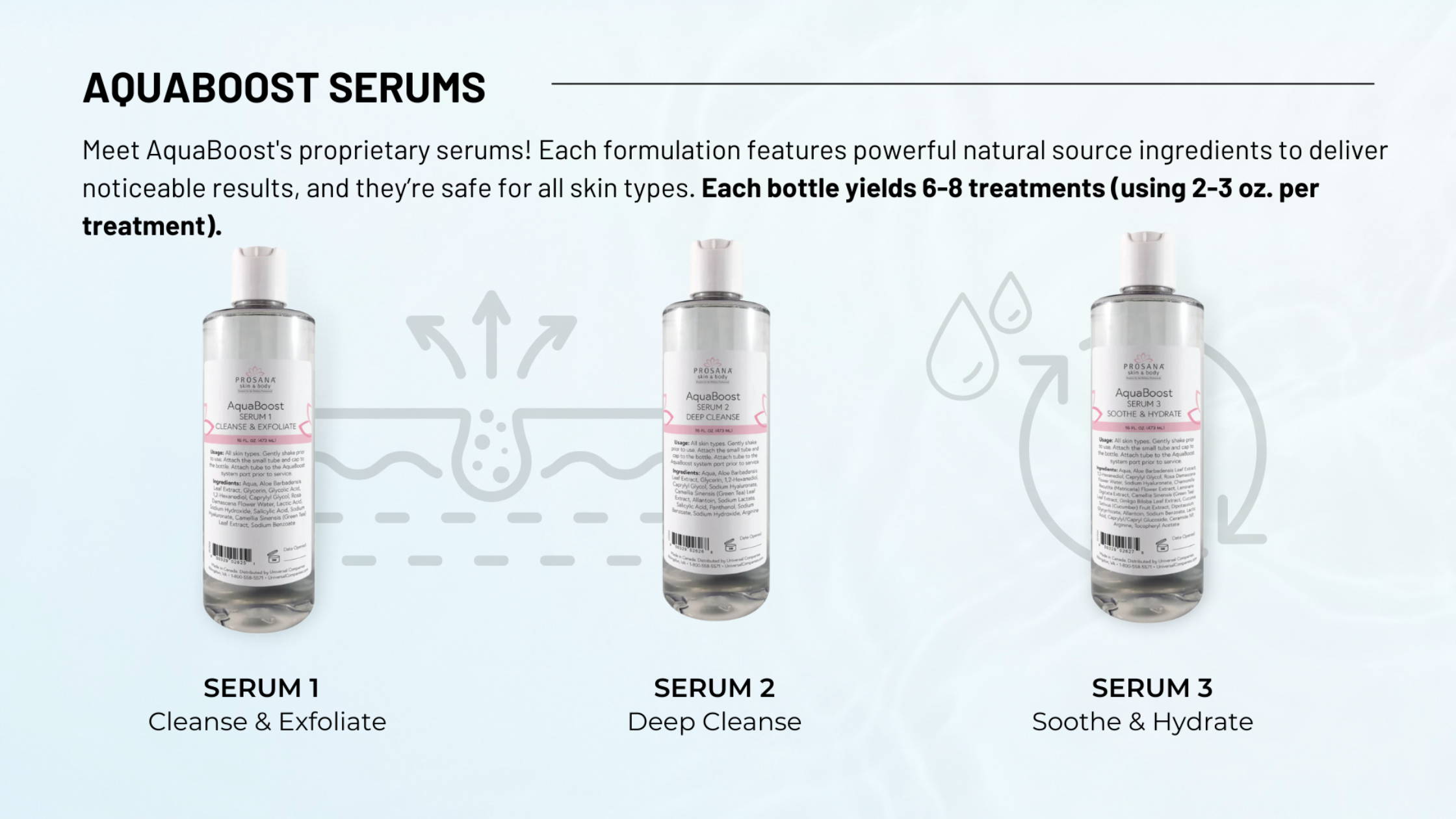 Meet the Serums: Cleanse, Deep Cleanse, and Soothe & Hydrate
AquaBoost offers three distinct serums: Serum One for cleansing and exfoliating, Serum Two for deep cleansing, and Serum Three for soothing and hydrating. Crafted with natural ingredients, these formulations are safe for all skin types and offer specific benefits tailored to different skincare needs.
Serum One: Your Go-To for Daily Skincare:
Best for: Dry, normal, normal to oily, and combination skin. Essentially, it's great for all skin types.
Benefits: Removes excess oils without stripping beneficial oils, exfoliates dry and dead skin cells, and hydrates.
Key Ingredients: Aloe for moisturizing, Glycolic Acid for cellular turnover, Lactic Acid for exfoliation, Salicylic Acid for purification, and Sodium Hyaluronate for hydration.
Serum Two: Deep Cleansing and Extraction:
Best for: Guests with excessive sebum, congestion, or acne-prone skin.
Benefits: Purifies the skin, reduces excess sebum without drying, and calms the skin.
Key Ingredients: Sodium Hyaluronate for hydration, Green Tea as an antioxidant, Allantoin for exfoliation, and Salicylic Acid for purification.
Serum Three: The Finishing Touch:
Best for: Included in most AquaBoost protocols and used most frequently.
Benefits: Hydrates, reduces redness, and offers antioxidant properties.
Key Ingredients: Rose Water, Sodium Hyaluronate, Chamomile, Green Tea, Cucumber, Lactic Acid, Ceramide NP, and Arginine.
Vital Consumables for Your AquaBoost System
Besides the serums, AquaBoost offers essential consumables to keep your Hydradermabrasion treatments running smoothly.
Clear Facial Tip: Most frequently used, suitable for most skin types, and comes in packs of ten.
Blue Seal Cleaning Tip: Used for cleaning the system at the end of each day.
Small Hoses with Cap: Frequently reordered and comes in packs of three hoses and three caps.
Take Your Skincare Services to the Next Level
Understanding the science and benefits behind AquaBoost's serums and consumables allows you to offer a superior Hydradermabrasion experience to your clients. Whether you're new to AquaBoost or need to replenish your stock, this guide aims to equip you with the knowledge you need to excel in your skincare business.
Quick Overview: Hydradermabrasion Study Findings
Objective: Validate hydradermabrasion for facial rejuvenation and test its effect on skin antioxidant levels.
Methods:
20 women, aged 34-56, split into two groups.

Group A:

Six hydradermabrasion treatments with antioxidant serum.

Group B: Six manual applications of the same serum.
Measurements: Photos, biopsies, and antioxidant levels before and after treatment.
Results:
Group A:

Improved skin thickness, appearance, and antioxidant levels. No side effects.

Group B: No noticeable changes.
~ Citation: PubMed 
Universal Companies is proud to have a team of experienced spa advisors on staff and welcomes you to consult with our professionals about spa products and supplies, including ingredients, equipment, and retail. Dedicated to the success of spa professionals everywhere, we're grateful to be recognized with the American Spa Magazine Professional's Choice Award, Favorite Distributor of the Year for many consecutive years. (Thank you!)